In and Of and Infused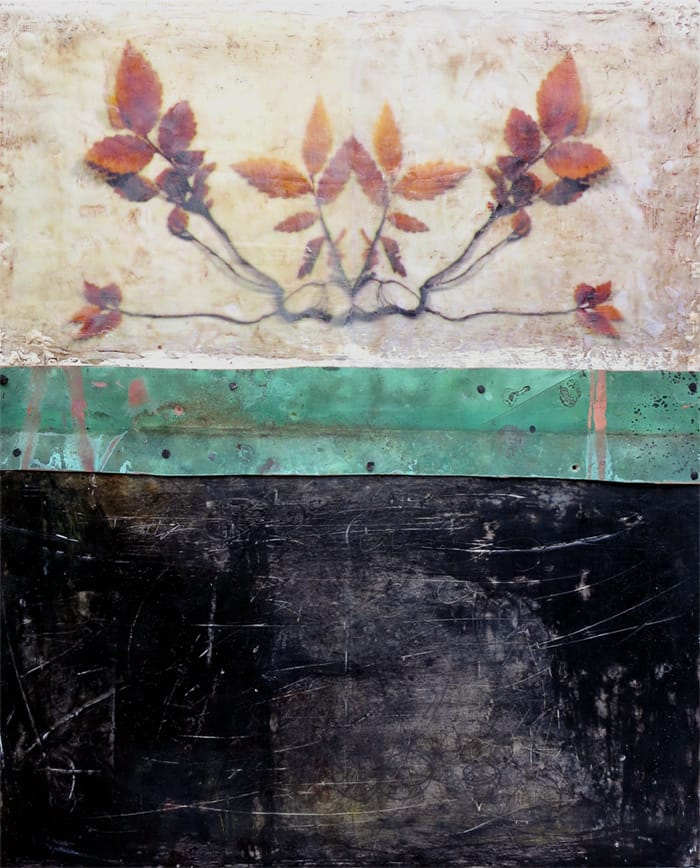 In and Of and Infused
encaustic mixed media
20×16 inches
I have been reading a wonderful book called Mink River
by Brian Doyle. It's pretty dense in its descriptive writing, but it is right up my alley. It needs to be read though in a concentrated manner which is why it has been sitting by my bedside for probably 3 years. Ever since I became a mother, I pretty much read 2-3 pages in a book and fall asleep. But on my recent 6 hour plane trip out to Seattle, I was able to read and really get into it. One of the themes in the book is the interconnectedness of all beings and I truly believe that myself. Maybe it's the loss of this belief that makes us all feel so isolated in our modern age? Maybe. Maybe not. I'm not sure, but it's something I think about when I am creating.
When I was brainstorming for the title of this painting that I just finished last week, I was flipping through the book and reread a passage about this one character's spirit right after he dies and how he spirit floated up and he felt all beings, all voices in the world, including those of mussels and plants. It was so beautiful. And remarkable because the character was a horrible person! I think that the point was that if he had known about this connection to all living things then perhaps he would not have been such a hateful person. Well, that's what I am getting from that passage.
A lot of my recent painting have a darkness in the palette and I think oh, I really ought to bring brighter colors as I am speaking to life and growth. But if you think about it, life begins in the dark, in the earth, in the womb. I find it comforting.