Golden Afternoon
Never be afraid to raise your voice for honesty and truth and compassion against injustice and lying and greed. If people all over the world…would do this, it would change the earth. -William Faulkner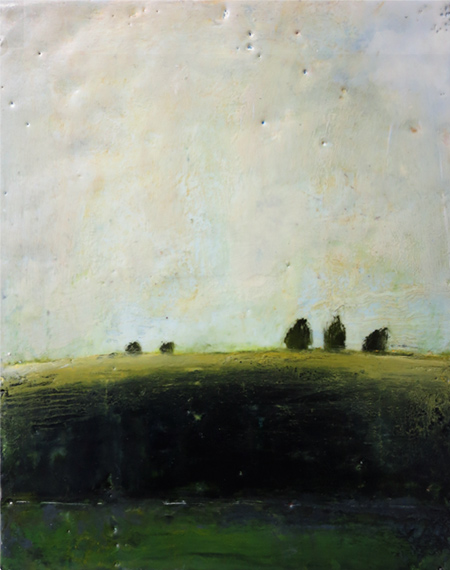 Golden Afternoon, encaustic, 8×10 inches
I have been online for a long time because of my artwork. I think it was in 2002 that I started my first online journal where I would write about my artwork. My first website that we created was that same year that was also an e-commerce site. This was before etsy and before people were really selling online. Anyway, my point is, I've been around. I've seen internet spats throughout the years. But I have to say, that with the pervasive use of social media of the general public, I have noticed a big change in how people interact. We all have seen the nasty exchanges. And the public shaming. And the feeding frenzy of the internet mob mentality. And it's on all sides. Just reading comments at the bottom of articles makes me doubt the sanity of this world and wonder where the humanity is. This isn't new as I feel like I started really noticing the change happen five or so years ago. But it all makes one want to retreat, doesn't it?
But even with all this, I will always remain outspoken. I am a quiet person by nature, but when it comes to social justice and the right to equality, I have a voice that I will always use to speak up. As a woman who is a minority, I also cannot stay silent. And to be honest, silence is not something I trust either. So, I will not retreat, but I also can choose not to engage with people who are verbally abusive and just want to be aggressive or whose opinions literally make my stomach hurt.
After a few unsavory interactions this past month, each time I would find refuge in my studio and paint landscapes. Painting landscapes and seascapes has always been meditative for me. I find peace in the process of laying paint down and trying to capture the feeling I had in that moment when I had stood in that spot. This painting came from one of those days. I remember the afternoon that I captured this scene with my camera. We were on a road trip and heading home, driving the long drive back up through Virginia. We stopped somewhere to stretch our legs and the way the golden light hit the green hill top and the little trees up on top was so beautiful. I knew one day I'd make a painting of that moment by the road of that golden afternoon.
Art is my cure to all this madness, sadness and loss of belonging in the world & through it I'll walk myself home.- Nikki Rowe