Natural Elements Journals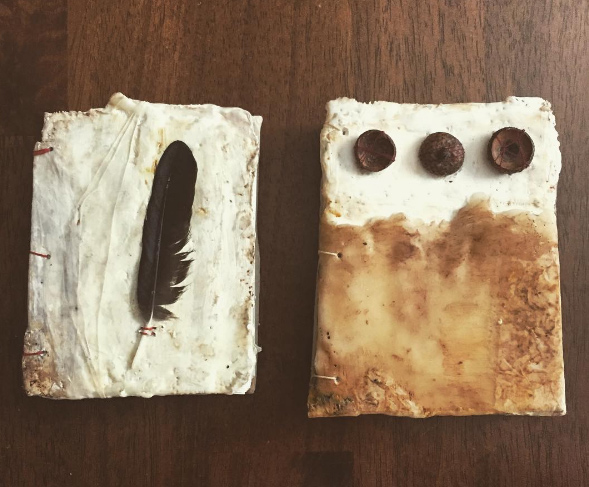 Many months ago I made these little journals. And they have sat cradled in a box waiting for me to photograph them and get them on my shop site. It's been so long since I have added anything to my shop, that I am embarrassed to admit that I have forgotten how to do it! And my tech guru is out of town for business this week and is very busy. But I'm on a roll with getting stuff done on the computer that I decided to just post them here before I lose steam.
The covers of these books are made of plaster and wax. I love holding these books in my hands as they feel like little treasures dug up from the earth. I made an even smaller one with a White Oak leaf encased in wax. I decided that I will keep that little one for myself. Each book was handbound with the exposed stitch binding so that the book will lay flat when open. I make all my journals that way as that is how I like my journals to lay when I write.
Many many years ago when I used to make and sell my handbound journals full time, I had a line of journals called Natural Elements. They were small journals with sticks and stones and seaglass as the main design element. I sold them online and a few shops in the Puget Sound area when I lived in Seattle. I've always loved the beauty in the simple things around us in nature. Still do, obviously.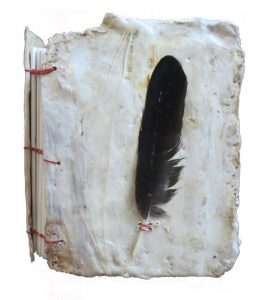 Hope is a Feather
handbound blank journal
4×5 inches, 84 pages, 168 front and back
sold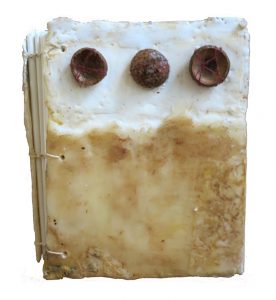 Three Little Acorns
handbound blank journal
4 x 5 1/2 inches, 96 pages, 192 front and back
sold