A Set of Field Journals
"I have learned that what I have not drawn, I have never really seen." -Frederick Franck, Dutch American sculptor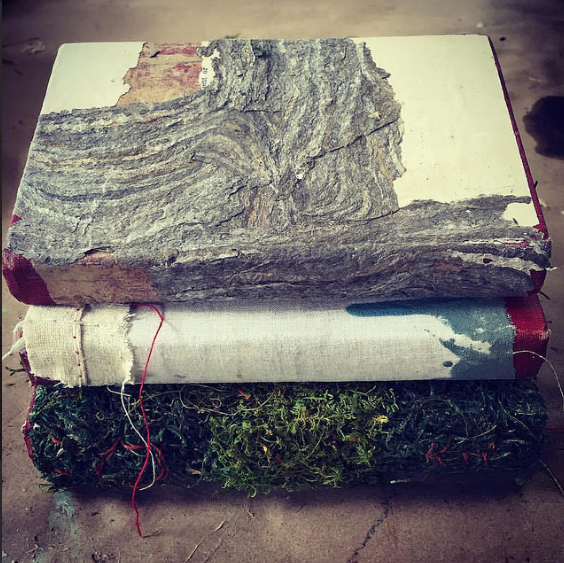 Well over 2 years ago I dropped by my public library's used book sale and found an overlooked pile of these little red hardbound books all for sale for, I think, a dollar each. I had no idea what I was going to do with them, but knew I'd regret not picking them up. Since then they have sat stacked in another pile in my studio waiting for me to figure out what to do with them.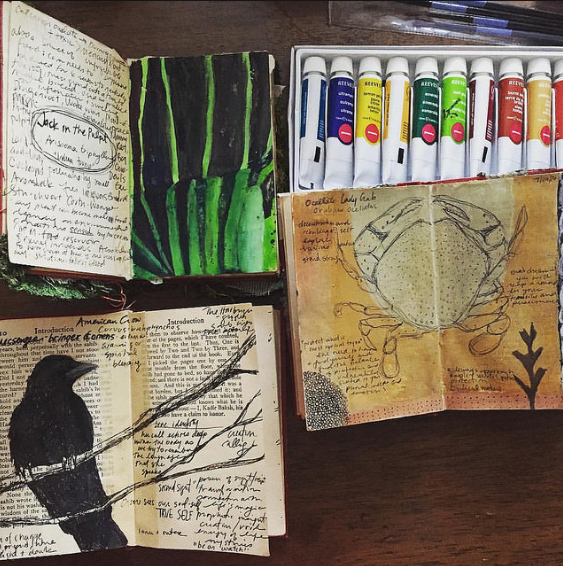 This summer I started working on them. I decided to use them as journals/sketchbooks for research on different animals and plants that cross my path or that I am interested in learning about. I learned so much in my Maryland Master Naturalist classes last spring, but what I really learned was how little I know. I am always interested in learning the facts and science behind plants, birds, insects, animals, etc. But I am intrigued by the folklore, symbolism, traditional uses and tales behind them.
Drawing and painting has always been a way for me to learn and really get to know my subject. Have you ever sat and drawn a tree? Even for just 1 hour, you will feel like you have never really seen at a tree before. Yes, you've looked at it, but you've never really seen it. And by the end of your drawing session, you will know that tree, intimately. When I used to have to memorize the pathway of the blood or all the neural connections in my anatomy classes in college, I had to draw the whole system out. Drawing it helped me to learn it better than just reciting it.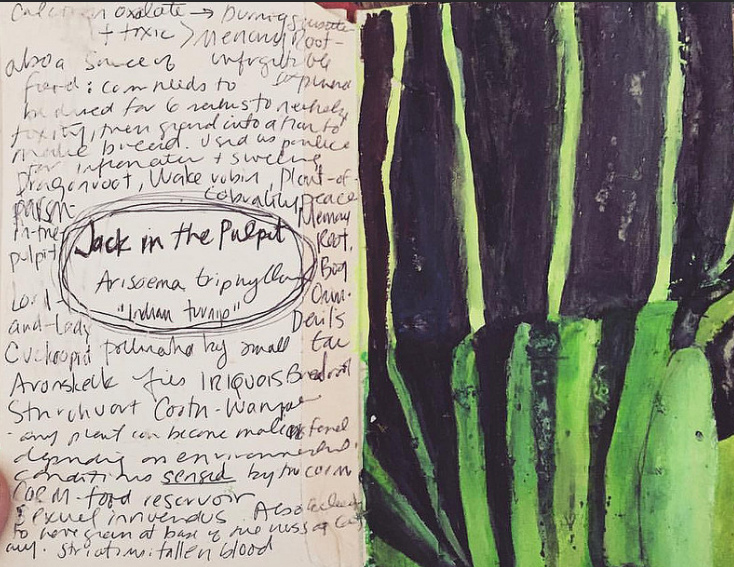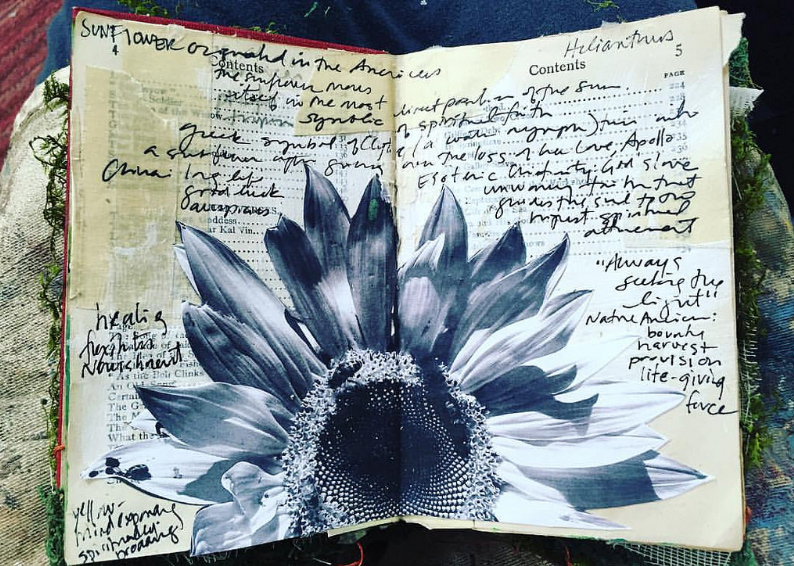 I covered one of the books in moss and inside will be notes on plant life. My first page was on Jack-in-the-pulpit, which was blooming along the trail last spring. So easy to miss! But once you know it, you will notice it everywhere when it's blooming.
I covered another book with paper from a paper wasp nest and inside this book will be notes and sketches of creepy crawly things. Over the summer I almost stepped on a crab. So I painted it that night. Yeah, I know, I probably should have put it in a creatures of the sea book, but I was at the beach and I only had my insect book with me. A crab is insect-like, so….it's staying in there.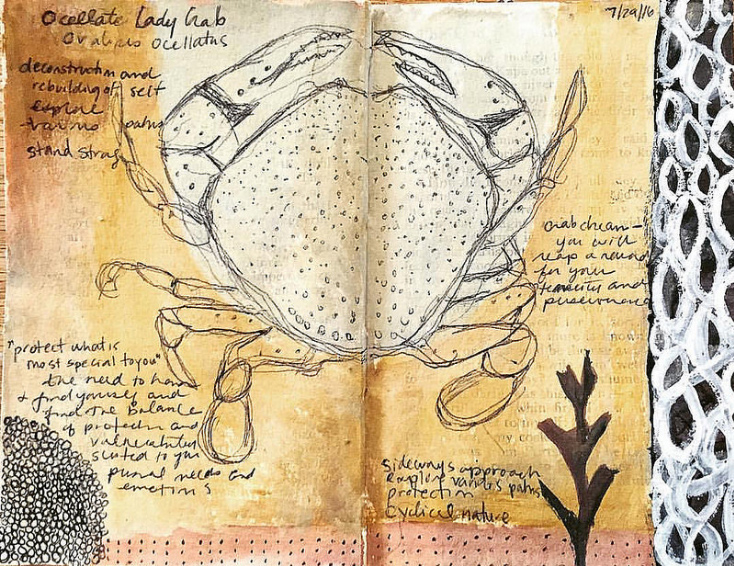 And of course, I have a bird book.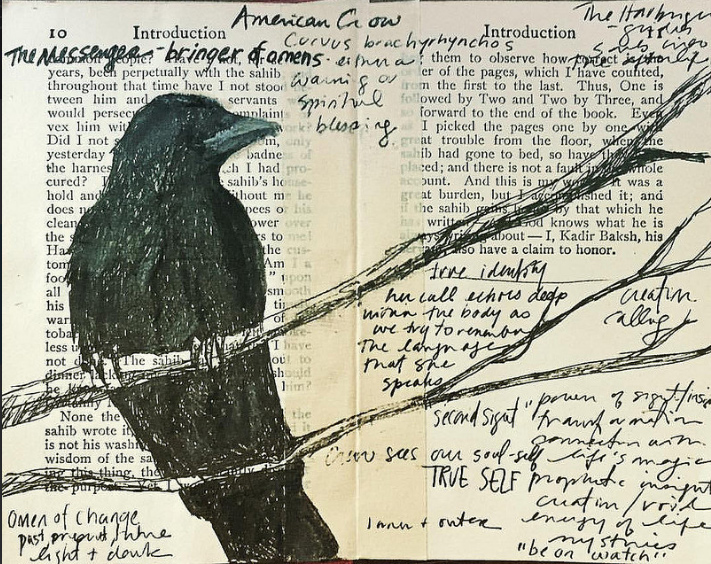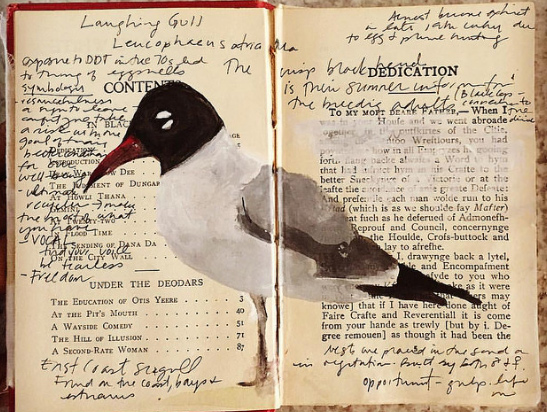 Some of my pages are illustrations of the creature, paying attention to detail, anatomy, etc. Other pages though are abstracted impressions. I may focus on a pattern that I see in the feathers or scales or foliage. And some may be collage, like the sunflower above. Just depends on my mood. I have mainly been using gouache and ink on gessoed pages and have really been enjoying the act of slowing down and looking.
I am having trouble finding space for all the notes I want to take. I might keep an extra notebook that I can keep for additional notes. I am really enjoying this project. It really helped me this summer mentally when I couldn't get into the studio. I love that I can just whip out my little palette and my gouache tubes wherever I am.
These are just a few pages in my books. I have been keeping a better record of them over at my Instagram feed.
"Photography is an immediate reaction, drawing is a meditation." -Henri Cartier-Bresson, French photographer