Persistence of Being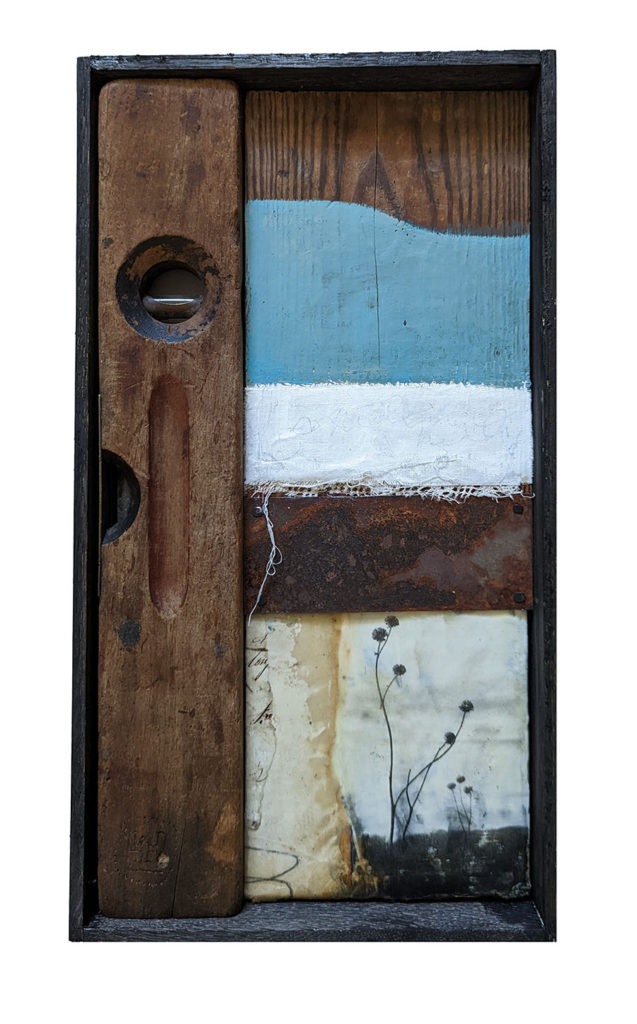 {Persistence of Being is currently in the RECLAIMED show at Lark and Key Gallery. I am grateful to see that it has sold already and will be heading to a new home! I have a few other pieces in the show this month that also use reclaimed materials and those can be view in the online gallery.}
I love going to estate sales and yard sales and picking up old treasures to use in my artwork. Hunting and gathering all at the same time. This piece includes a vintage wood level or balance, not sure which is the correct term as I've used and heard both. I also painted a piece of reclaimed wood from our home renovation. A piece of metal, fabric and old vintage papers were also enlisted in the creation of this piece. Acrylic paint up top and then encaustic with a photo transfer of one of my photos on the bottom complete the piece. Oh actually, I built the frame for Persistence of Being as well.
I wasn't really sure what to write today about this piece so I typed in the title into the search bar to see if anything interesting would spark my thoughts. All of the prominent articles that came up had to do with being persistent to be a success, or to achieve your lofty goals or "the habits to successful persistent people", etc etc. I laughed and also felt ill. Why is it that the algorithm assumes that persistence has to do with monetary success or business goals and that is what we are searching for? Everything is in the framework of achieve, do, consume… of course, there's a place for all that. But life is much more than material achievements. Right? Please?
Why can't persistence of being instead be about quiet and grounded steadfastness? For instance- the persistence of a bird that gathers a twig at a time to build its nest. Or the persistence of that wildflower growing up through the cracks in the sidewalk. Or the persistence of the woodpecker pecking a hole in my neighbor's roofline. Or the persistence of the ocean's waves hitting the shores over and over.
"Knowing trees, I understand the meaning of patience. Knowing grass, I can appreciate persistence." -Hal Borland