SURFACE

Surface
FEBRUARY 3 – MARCH 31
Lark & Key Gallery
Lark & Key Gallery and Boutique presents SURFACE, opening Friday, February 3rd from 5-8pm during the South End Gallery Crawl. The exhibit will be on view through March 31st, 2017.
The show explores the concept of 'surface' – above, below and within. It features encaustic and mixed media artwork by Janet Eskridge, Bridgette Guerzon Mills & guest Robin Luciano Beaty, with ceramics by Jim Connell and jewelry by Alice Scott (Symbology).
Please contact info@larkandkey.com for more information and/or to inquire about work. You can view my work in the exhibit as well as purchase them online.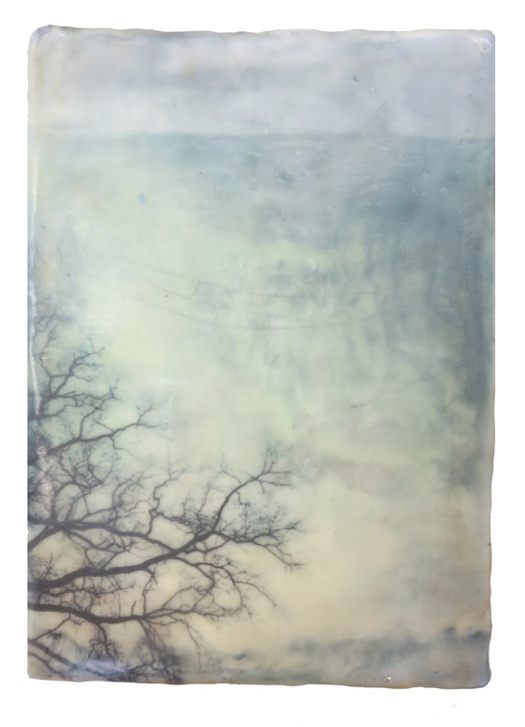 A Poem Upon the Sky, encaustic mixed media, 5×7 inches, framed 8×10 inches, $240
While creating works for "Surface", like the painting above, I kept the word surface in mind both in terms of content and medium. The texture, mark-making, and the layering of encaustic create a rich surface that seems to have a power in and of itself to pull the viewer in for a closer look. Even a panel that seemingly is just black has a much richer surface if one steps closer. For the imagery of my paintings I focused on birds and branches and tree silhouettes, not just because I love them, but because they are all a constant presence in our lives, on the periphery or on the surface of our daily living. But we need to go deeper, step closer. By truly seeing them and acknowledging their presence in our lives we can embrace that they are vital for the well being of our world.
I will not be able to be in attendance tonight at the opening, but Janet Eskridge will be there along with her wonderful assemblages. I hope if you are in the area, you are able to stop in!