Week 8: Warm Pasta Salad with Shrimp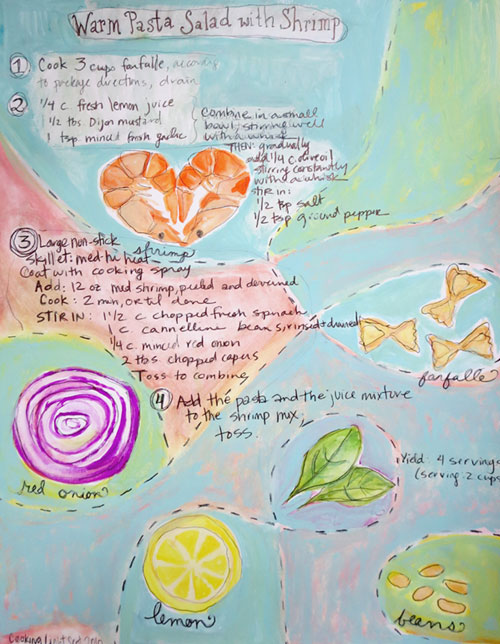 The recipe for this week has been buried in my binders for over 7 years and I am so glad I finally made it as this one for sure I will make again and again. It was really good served straight away for dinner. And the recipe suggested serving leftovers cold for lunch the next day- really good according to my husband who brought it to work for lunch.
I added more spinach than the recipe called for. Probably double. And next time I'll add a little more shrimp.
When I was working on this, I was trying to get my son to practice his instrument for his school band and I was getting a lot of excuses, whining, etc etc etc. And I told him, "why do you think I do these illustrated recipes? They are not part of my normal artwork that I do for my work. I do it because it's part of my creative practice. To work on color, design, painting what I see, etc. We all need to practice in order to get better." And he said, "But you like cooking and painting is fun." I couldn't argue with that…but I did get him to practice. So there.
Get the original recipe from Cooking Light