week1: salmon with brown sugar and mustard glaze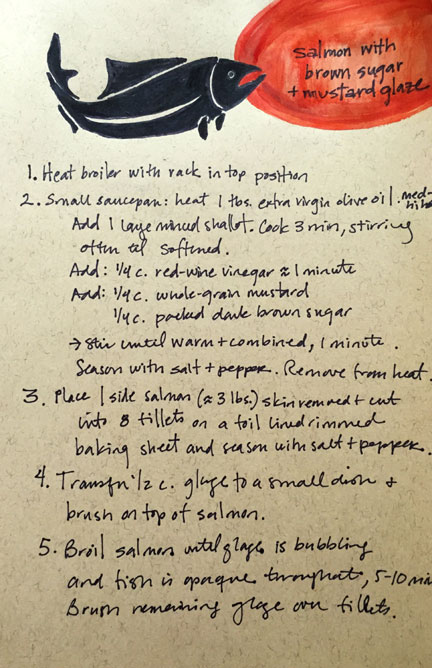 I confess, I am a hoarder of recipes. I am not kidding and it's not an exaggeration. My magazine subscriptions have not been for art or politics or literature, it has always been food magazines. On the pile of books by my bed there is always at least one or two cookbooks there that I flip through and read. The more beautiful the photos the longer I will keep the book there and renew it from the library until I am not allowed to. I have two shelves in my living room solely devoted to cookbooks that I have collected. Because we have moved so much and my boxes of books cause my husband to glare at me everytime he has had to pick up a box during one of our moves I actually once went through all my magazines and ripped out the recipes that I'd make one day and put them in binders. For the past four years I have not subscribed to a food magazine because I have so many recipes that I have collected and saved for one day and have never made them.
I have recipes in there from 2001. That is 17 years ago!!!! So this year, I am dedicating myself to making at least one new recipe from my binders a week. And if I like it and the family approves, I'm going to add it to a recipe journal.
Ever since I came upon Mollie Katzen's Enchanted Broccoli Forest when I was in high school I have just loved handwritten and illustrated cookbooks. I'm thinking if I combine this recipe testing and making of an illustration then maybe I'll stick with it. I won't add the duds.
Anyway, long story to say that yesterday was the first new one day I'll make it recipe. I only made half of the salmon. The Bearded Man (my husband) loved it, but he loves salmon in any way, shape or form. I liked it alright, mostly because it is so so so easy to make. Fish + broiler = easiest dinner ever. The Brave (10 year old who will try anything) said, it's good and ate most of it… but then said he didn't like the sauce and left sad saucy pieces scattered on his plate. PBJ (picky 7 year old who seriously at this point must be made out of peanut butter) refused to try it and ate Trader Joes fish sticks.
Final review: keeping this plain Jane recipe for when I need to do something hearty but fast. When I make this again I'll have to do a flavorful side to make the meal a bit more exciting for my taste buds. Maybe roasted veggies. Not sure. Sides have never been my strong suite.
This recipe came from EveryDay Food from years ago, not sure what issue. But here is a link to the recipe.