30 in 30: days 21 and 22
Day 21 of the 30 paintings in 30 days challenge
On Monday I was called in to do my civic duty as a juror. I spent all day there, but at the very end I wasn't chosen to sit in the jury. It was a really interesting experience as the last time I was called, many years ago in Chicago, I went, but my number was never called. I learned a lot more about the whole process this time. Pretty amazing that we are all allowed a jury of our peers, each and every one of us.
After all of our after-school activities, dinner, and bedtime, I knew there was no chance of going into the studio, heating up wax, and painting for the daily painting challenge. I was really tired and just wanted to go to bed. It is the time it takes to heat up the wax that was the biggest deterrent. So I picked up a panel that I had previously collaged with different paper, fabric and encaustic and was just going to submit that as my painting of the day. But I looked at it and I just knew that it needed one more thing. So I got my blanket, a pencil, an eraser and got comfortable on the couch and I drew this little hummingbird. I have always loved hummingbirds and I miss the little birds that used to visit my kitchen window when we lived in Seattle. The spanish word for hummingbird is one of my favorite words too- el colibri.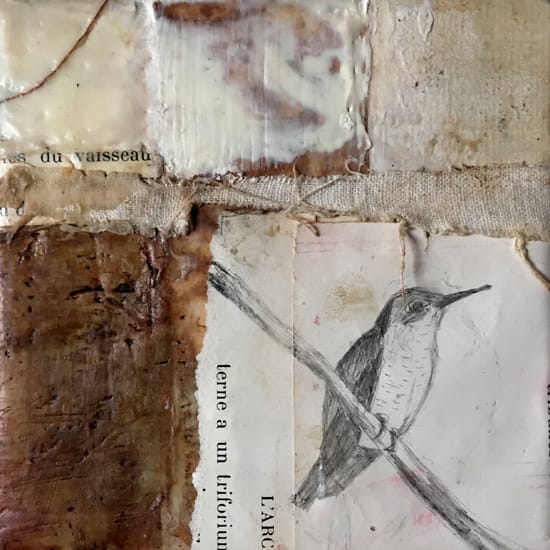 Day 22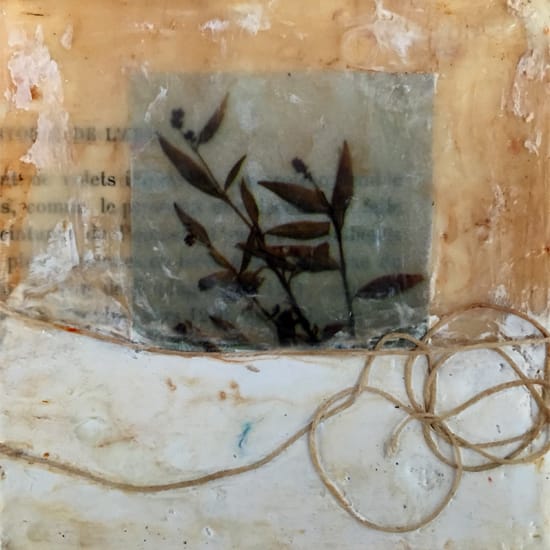 I have a lot of thread strands running through these little panels. I've always loved to do that.