Artists In Dialogue with the Landscape 2021: Shelter In Place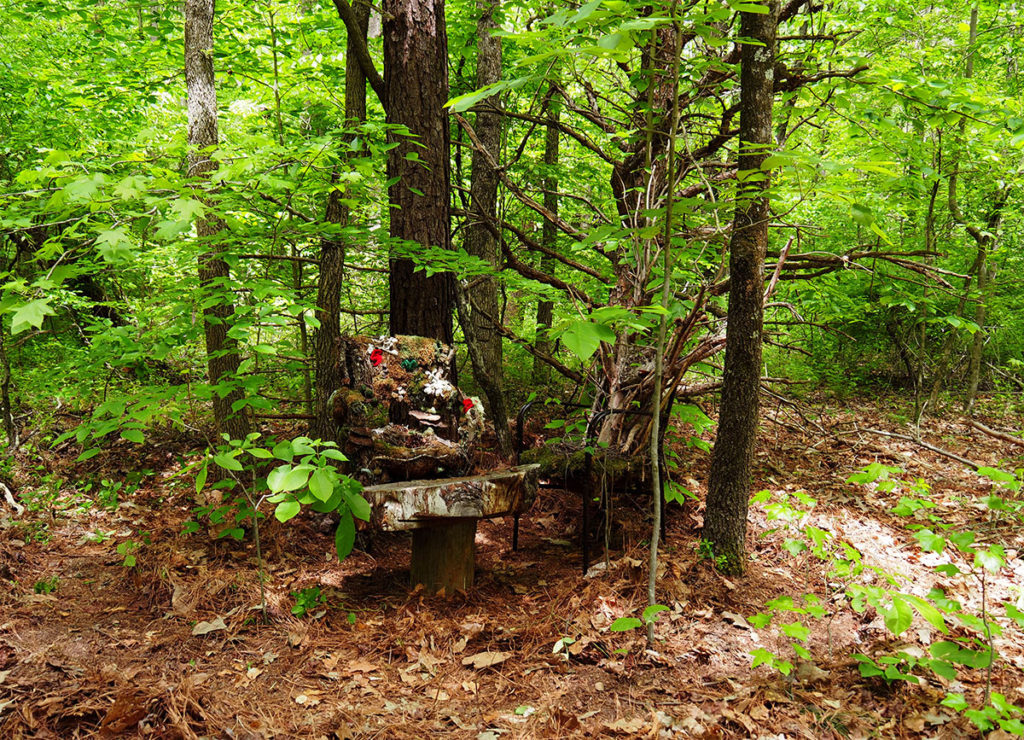 When I was invited to do an outdoor installation for the 2020 Artists in Dialogue with the Landscape exhibit at Adkins Arboretum, I decided that I wanted to create something that spoke to how I find comfort in nature. I thought about creating a living room vignette in the middle of the woods.
And then the pandemic hit the world and we were ordered to shelter in place and quarantine. As soon as the schools were canceled on March 13th of 2020, my family went straight into social distancing and stayed home. As the proposal date for Adkins neared, I kept coming to this idea of home/nature. Then as quarantine continued, I saw how people who normally don't get out in nature, headed out to the trails even when they had been instructed to stay home. Everyone was turning to the outdoors to get out of their houses, but also because it feels good. Nature has always been medicine for the spirit and our bodies. I decided that creating a nature filled vignette to represent nature/home dichotomy, or erasing the lines between the two would be something I really wanted to focus on. My installation was partially to be made in my studio and partially made on site. 
The first chair I worked on was the Mossy Chair. This chair includes florist moss,coir, sticks, bark, leaves, pine cones, bird nest, wasp nest, vine, yarn, upcycled bike tires, upcycled plastic bags, plastic netting from fruit bags, plus whatever falls on it from its surroundings. I had actually started this chair even before the proposal as it was something I've always wanted to do. But it was basically just moss and coir. When my proposal was accepted I started crocheting organic forms to add to the chair. This was when we first went into shutdown and I found it comforting to crochet these weird organic forms while sitting next to my daughter during her foray into virtual learning. It was such a stressful time of major unknowns and bare shelves in the grocery stores….but I just kept crocheting.
Then shelter in place mandates kept extending and travel had stopped and so many exhibits I was in were either postponed or canceled. The word finally came that this too would be indefinitely postponed. I stopped working on it for awhile because, well, 2020. Enough said. But I'd work on it here and there. I had originally planned to weave a big nest in the second chair and I started working on that. I used English ivy vines to start the nest. And I liked it. Fast forward a few months though and we had to cut down a big shrub in our backyard and my husband saved it for me. I actually had wondered why he never got rid of it, but didn't ask. And it sat in the corner of our yard over winter. We entered 2021 and I got the email that the show was finally going to happen this spring and I started working on the chairs again. My kids at that point had been in virtual school for about a year and we still had not traveled anywhere and were staying home other than regular errands and day to day tasks. So still social distancing pretty much. I would say that no one guessed back in March 2020 that social distancing was going to last so long.
My husband and I were in the backyard, cleaning it up after winter and I asked him about the shrub and he said, I saved that for you because I thought you could do something interesting with it. I laughed because he knows me so well and also felt appreciated as he actually hates clutter, but he saved it for me nonetheless. And it just came to me: I picked up the cut shrub and stuck it in the middle of my nest. It made me laugh. I felt like it was the perfect expression of having been in one place for so long, that a tree started to grow out of the chair. Like setting out roots from our places on the couch while bing watching Netflix all year.
When I went to install earlier this month, I knew that I wanted a site near the loblolly pines that I knew were in the arboretum. The ground below loblollies are often covered with a rug of their needles and I wanted to create a spiral rug underneath the chairs to a) integrate my installation into its environment and b) help define the room and c) I love to do these type of nature doodles whenever and wherever I am moved to make them when I'm out and about. The spiral rug can really only be viewed on site. You really can't see it in photos.
Working on these outdoor installations delight me to the core. There are many reasons, but one is that the natural world is wonder filled and I love creating nature based art installations in a natural setting that invites wonder and can even amplify it.
When I finished the installation, and had cleaned up and packed up everything and started heading down the trail, a young family approached my installation. I slowed my steps so that I could eavesdrop. The two little boys were so excited, as if they had found a magical portal or some sort of treasure. And that made my heart happy.
I started this with an idea to speak to the fact that the natural world is our home and that in our modern world, we turn to nature for healing and solace. Our animal bodies instinctually know that we are nature and nature is us. We just need to remind our brains that it is so. My hope is that this installation is experienced by the visitors as a moment of remembering and/or a moment of recognition.
So far I have heard some reactions that different people have had when viewing it in person and I just love how different they are. One person said it felt mythical and magical. Another said it did feel like an intimate room that they stumbled upon. And another said that it reminded him of all the post-apocalyptic movies and novels where nature takes over man made objects and reclaims the earth. Each individual brings themselves when viewing a creative piece of work whether visual or auditory or verbal and I just love that.
If you find yourself in the Eastern Shore region of Maryland this summer, Artist In Dialogue with the Landscape exhibit is open to the public at Adkins Arboretum from June 1- September 30th, 2021.