Coffee + poetry + art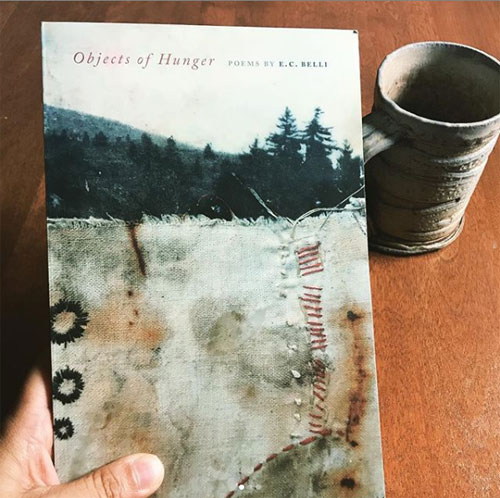 Sometime last year an email landed in my inbox from a poet, named E.C. Belli. She had been searching for artwork for the cover of her book, Objects of Hunger, which had won the Crab Orchard Series in Poetry First Book Award and was going to be published by Southern Illinois University Press. She was writing to see if I would consider working with her so that my mixed media piece "The Land Knows" could be used for the cover of her first book.
Anyone who knows me even the tiniest bit knows how much I love books and so I was completely honored to have been approached by E.C. Belli. The biggest gift though was having a poet describe to me why she loved my work. She said, " Your works are rare in that they are both tender and gritty, haunted and sublime, domestic and wild at once, and that they just feel completely alive. Looking at the piece felt like meeting a person. And then the trees were of tremendous importance to my process as well. Their haunted presence in "The Land Knows" made me hunger for the image before I even clicked it open and noticed the bottom part. The stained, red-stitched rag completely blew me away–how it can summon notions of the domestic, notions of healing and wounds, but also notions of the mechanical world, large machines, oil, etc. It just seemed like this image was tying all of the book's themes together, but most importantly it was obvious that it could hook a passerby with its haunted, sublime, and gritty qualities. "The Land Knows" is a gut punch, quite simply. "

Insert image of me with my hand to my forehead in the middle of a swooning faint.
Objects of Hunger was recently published and E.C. Belli sent me two copies that she signed for me. I was so excited to open the package. When I had a quiet moment I sat with the book of poetry and a mug of coffee and felt a warm feeling of happiness.