Did You Hear That Too?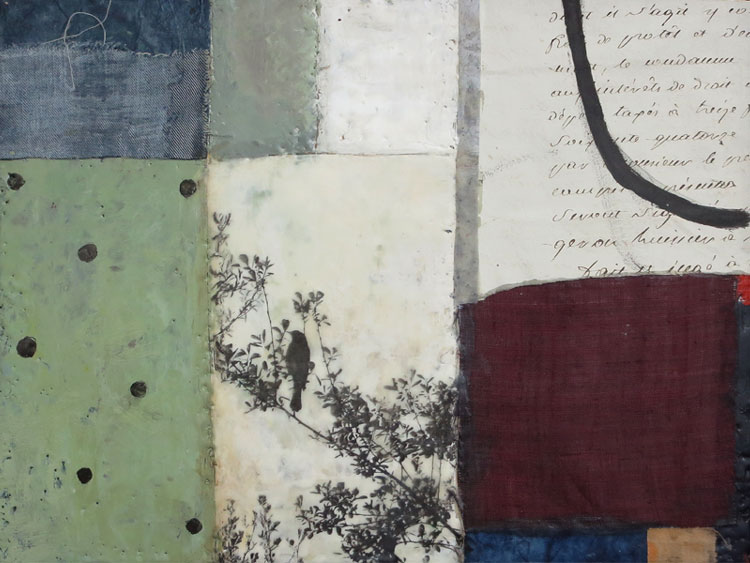 The Swan by Mary Oliver
Did you too see it, drifting, all night, on the black river?
Did you see it in the morning, rising into the silvery air –
An armful of white blossoms,
A perfect commotion of silk and linen as it leaned
into the bondage of its wings; a snowbank, a bank of lilies,
Biting the air with its black beak?
Did you hear it, fluting and whistling
A shrill dark music – like the rain pelting the trees – like a waterfall
Knifing down the black ledges?
And did you see it, finally, just under the clouds –
A white cross Streaming across the sky, its feet
Like black leaves, its wings Like the stretching light of the river?
And did you feel it, in your heart, how it pertained to everything?
And have you too finally figured out what beauty is for?
And have you changed your life?
Yes, I know the bird in my painting is not a swan. It is based on a photo I took 12 years ago in Seattle of a Red-Winged Blackbird. It is based on a moment that I will never forget and that opened up a new world for me. And it was the first time I heard the Red-winged blackbird's call and that it was named for me.
When I read this poem, I felt inspired to title this painting Did You Hear That Too? Those last three lines…oh, Mary Oliver, you gifted us with such beautiful words, highlighted how connected all life forms are, and left us with pressing questions.
I just shipped this painting plus five others to Cappaert Contemporary Gallery in Egg Harbor, WI for the 2019 season. If you're interested, please feel free to get in touch with either myself or the gallery. And if you're local- you are so lucky to live in such a wonderful place, but also be sure to stop in!
{I did not blog yesterday, but I did write in my journal. So right now as I hit publish I'm at 5/100. So glad I'm doing this because I wouldn't have written as much this week without this push. It was a rough week, but it's Friday, hooray!}