Down in the Field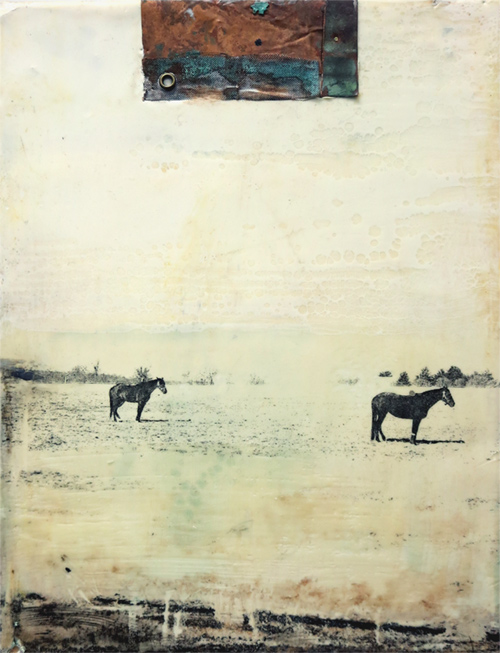 Down in the Field, encaustic mixed media
6×8 inches
These past few weeks I have been working on a commission that includes several paintings of horses. I have really been enjoying making these paintings even though I would not consider myself a "horse person". Although up until age 6 I grew up on an old horse farm and I must have some kind of affinity with horses buried deep within. It feels right making these paintings.
I will share more about this commission once I hand off the paintings. But it is an exciting opportunity to be a part of. My last post I mentioned a bit about the business of art and that I've been ruminating on aspects of it these past few months. One thing that is of utmost important is putting your work out in the world and by so doing creating openings for opportunity. Also important is trusting your gut about partnerships and who to work with. You really never know what can happen with any given opportunity. Some work out fantastic- hold onto those like the treasures that they are. And some are a bust, sometimes despite everyone's best intentions and sometimes…well, let's just leave it at that.
About ten years ago when I first started to tiptoe out into showing my work in the real world on real walls versus the safety of the online world, I started in coffeeshops in Seattle. I remember in one instance someone who came in everyday to that particular coffeeshop to start their morning saw my paintings and contacted me to be the featured artist at their store that sold environmentally sound and beautifully designed furniture. They sold many paintings for me. It was a great fit. There are so many instances of that kind of opening of opportunity that can be like a domino effect. The important thing I learned early on was to keep making my work and putting it out in the world. The real and the online. The real part though was my achilles heel. But every opportunity, it got easier.
I am writing this to remind myself just as much to share with anyone who might need some motivation. It's tough, I know.
Listen to this Jealous Curator podcast interview of Molly Hatch to hear a crazy story of showing up, persisting and grabbing onto opportunities.