Earthbound
"There is an eternal landscape, a geography of the soul; we search for its outline all our lives." – Josephine Hart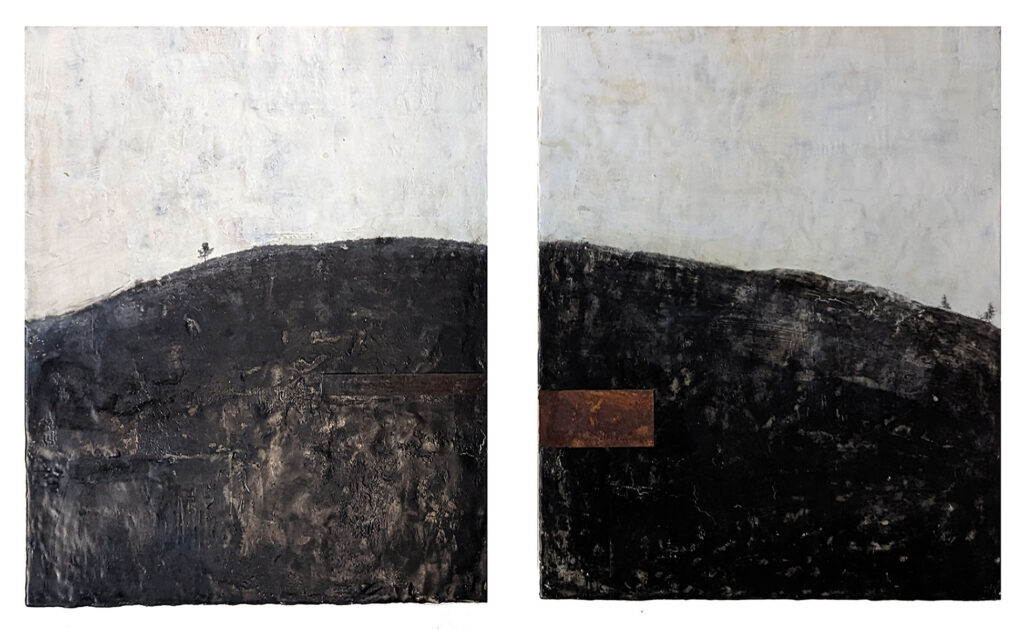 Many years ago there was a photo of a tree that I used over and over again in my mixed media work because I loved that tree image so much. Because I used it so much in my artwork, that tree became a part of me. The tree lived on the east coast and I lived on the west coast at the time. I remember I came back for a visit and I saw the tree again after I had made so many little paintings of it that it felt like I was visiting an old friend. Even though the tree had changed a bit as well as the landscaping around it, I knew that tree so well. Intimately, it seemed.
That's how this landscape above is for me. It's appeared in my work several times. But this is its largest iteration. I created it on two deep cradled 20×16 inch panels. I made it with my upcoming show in mind. But now after seeing all the work together and thinking of the work that will be shown of the other artist, I'm going to keep it out of the show. Didn't quite flow with the rest of the work.
There's something about the minimal shapes of this and the contrast between the white and the grays/black that I like. Both panels have rusted metal attached, although it's hard to see the one on the left side. There are things I find fascinating that are really just fact. One of them is that pure metal comes from the earth's crust and other metals are mixed in with rocks and minerals. So much of the things we use in our daily lives need once was part of the earth's crust. Even the human body needs certain metals to function and stay healthy. Of course I'm oversimplifying things, but I just find it all pretty amazing.
I will be delivering my work for the show this Sunday, so this week will be all about doing the finishing details and finishing up choosing what will show. I am really looking forward to this show. So many things though that need to get done between now and delivery! Bit by bit is how it gets done. I have been sick for the past few days, so I'm behind. And I'm still sick, but better. It'll get done. It always does.
"We are a landscape of all we have seen." – Isamu Noguchi