event postponed and what's on my studio table
There is an impending winter storm brewing for this weekend, so the Meet the Artist event at GCDC that was supposed to happen tomorrow, Saturday February 21st, will be postponed. Hopefully we can figure out a time for another Meet the Artist event! Stay tuned….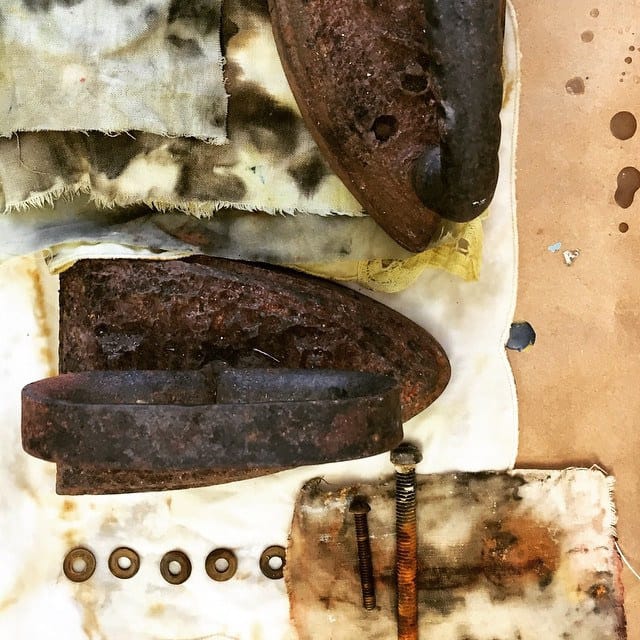 With all this crazy weather there have been a lot of school cancellations and school delays. Nothing like Boston, but still it has been quite the damper on studio production. I am still working away and getting new work done slowly for an upcoming show in April.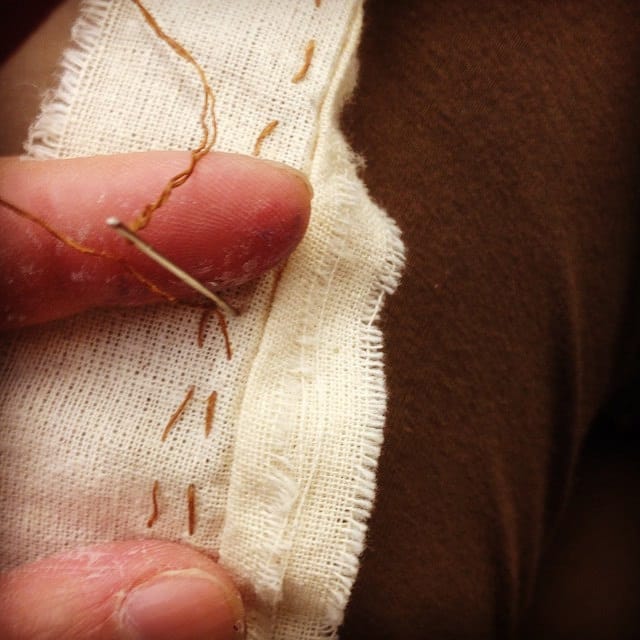 These new works are a return to my collaged works, using salvaged and found materials, earthy palette. Compared to the straight up painting that I did for the past few months with my colorful landscapes, this process is so very different. I'm trying to pinpoint how to articulate the difference, but it's difficult to put into words. It is almost like I am using a different part of my brain. I feel like when I am painting, it is very intuitive….I often get into that no-mind state. It's very relaxing to me in the sense that I look at a landscape, mix paint, and put paint on canvas. I mean, it's not easy, but it's more about observation and then creation. With my collaged, mixed media works, it is intuitive too, but there is a lot more deliberation. Many more decision making moments. A lot more questions and what ifs. Deliberation and then creation.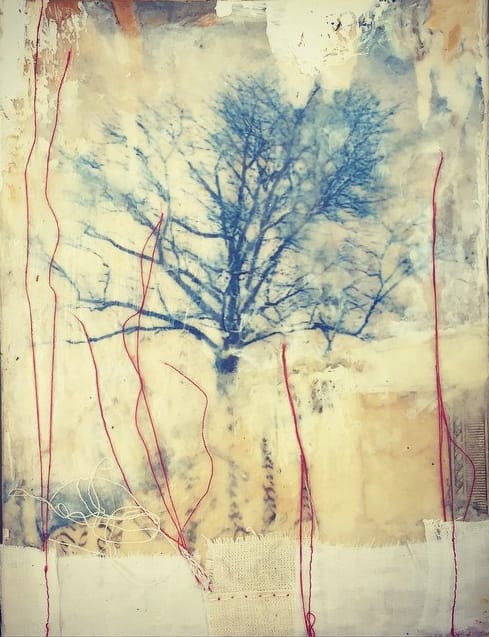 And a lot of handiwork involved- sewing, cutting stitching, nailing, etc. I love bringing different materials together. It makes me happy.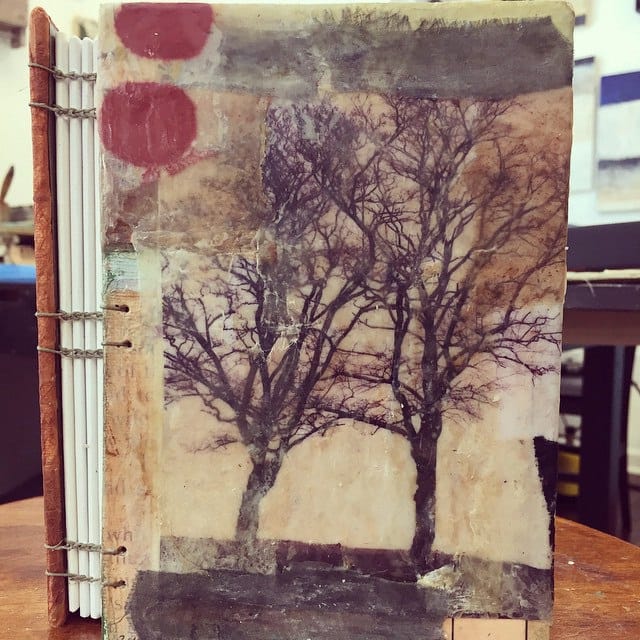 Through the Empty Branches
7×5 in handbound journal
sold
When I sent my last newsletter out I received a few emails from past collectors of my handbound journals asking if I was ever going to make journals again to sell. I always mean to make them-it is just that studio time doesn't allow for everything I want to do! I have so many ideas and project tucked into my brain under Someday. But I decided to dedicate some time to create a few panels for journals as I work on my larger pieces. The one above is called Through the Empty Branches and again it's title was inspired by a Rilke poem. This journal has already been purchased by someone who has been purchasing my journals since my Seattle days. So very grateful for the people who purchased my journals way back when and are still a part of my creative journey.

Through a Vast Plain
…
Through the empty branches the sky remains.
It is what you have.
Be earth now, and evensong.
Be the ground lying under that sky.
…
Hopefully I can get more journals bound up and available in the next few weeks.