Finding that Quiet Place
Do not be dismayed by the brokenness of the world. All things break. And all things can be mended. Not with time, as they say, but with intention. So go. Love intentionally, extravagantly, unconditionally. The broken world waits in darkness for the light that is you.
– L.R. Knost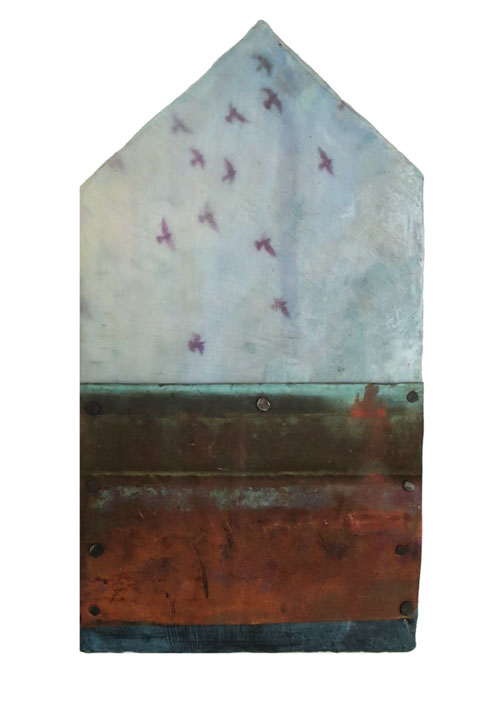 Finding that Quiet Place
encaustic mixed media on wood
5 1/2 x 10 1/2 inches
I have come to the conclusion that the human experience on this planet is about struggle and figuring out how to endure and how to find your moments of peace and joy. Even with people who seem to have it all together, I am certain that they are struggling with something. I have used this image of the birds flying as the inspiration for several mixed media pieces these past few years since I captured that moment. It's an image that lifts my spirits and helps me feel a lightness of being. I've been drawn to it a lot lately during these times of constant bad news and turmoil, and sad stories of struggle and illness and pain that we all experience in our daily lives.
Sometimes I wonder if people think I live in a serene, nature-filled environment based on my paintings. I live in suburbia right now, granted my neighborhood is wooded, but it's still suburbia. I live 10 minutes from the Baltimore city line. We have to leave and go many miles to get our hikes in to refill our wells. The inspiration for my work often comes from these trips. But they also come from finding the beauty and the stillness where I live.
There is a main road nearby lined with gas stations, big grocery stores, auto lots, strip malls, etc, etc. When I first moved here, I found it super depressing but a road that I have to travel often. I was on this road in a parking lot running errands with my preschool aged daughter. I was helping her unbuckle from the 3-point safety harness seat belts that kids these days travel in when we both heard a rustle above us. We looked up and saw these birds flying together in unison in curving lines above the pavement and above the traffic.
It comforted me to see the birds moving as they have for eons and will continue to do so after we are gone. I was able to find the quiet among the noise. And in my creative practice, I am able to revisit that moment and gift it back to the world.
I will be sending this encaustic mixed media piece down to Lark and Key soon. Packing it up today, in fact.
May I find in myself … a secret stillness …
and tranquility … beneath the turmoil.
~ John O'Donohue