Fingerpainting the Moon: Art For All Seasons book give away!
I am really excited to be on this book blog tour for Susan Schwake's book Art For All Seasons (Kids Art Series)
and to share it as I think it's a wonderful book to get kids inspired to create. I am honored to have one of my little pieces included in this book as an inspirational image of contemporary artists' work. That is one of the features of the book that I really liked- along with each kid centered activity there is a featured artist that inspired the project. For the blog tour I decided that my kids and I would follow some activities in Art For All Seasons and we all had a lot of fun.
Activity 1: Cozy Animals. This project was inspired by printmaker Amy Rice
My 5 year old chose this activity to do, but she was very clear about wanting to do a pig in the summertime.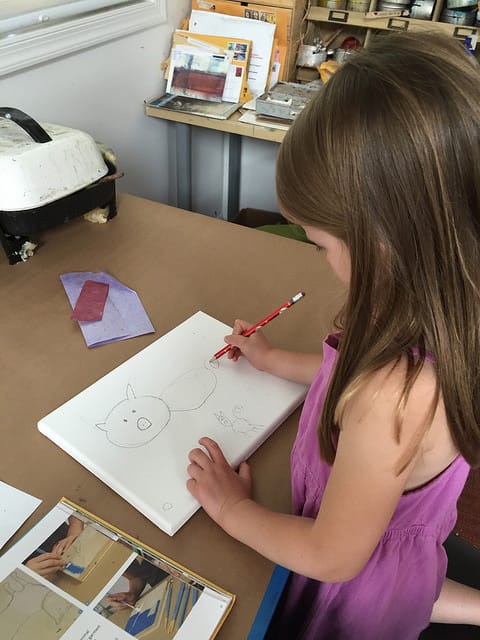 She drew her pig in with a pencil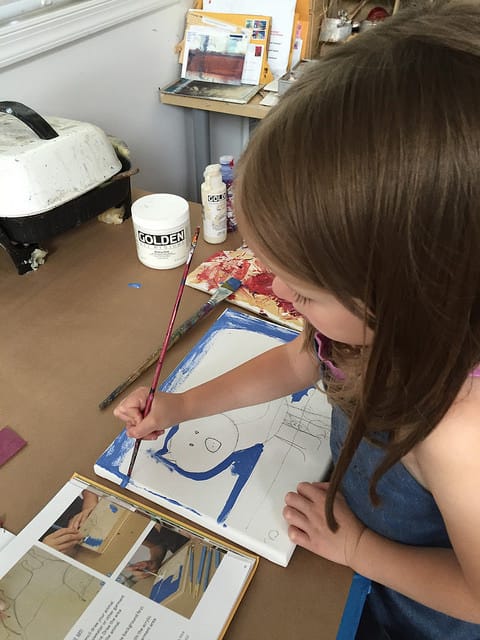 I outlined the pig body with the blue as that is difficult for her age, but then handed the brush over and told her to fill in the rest.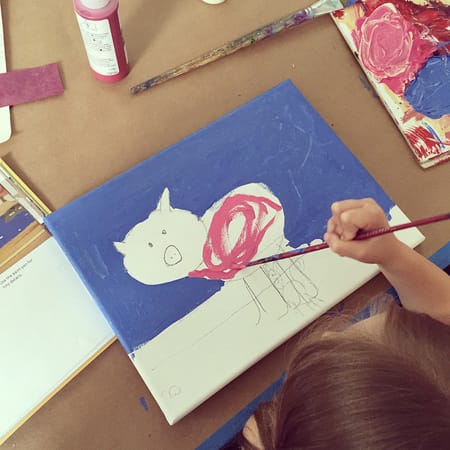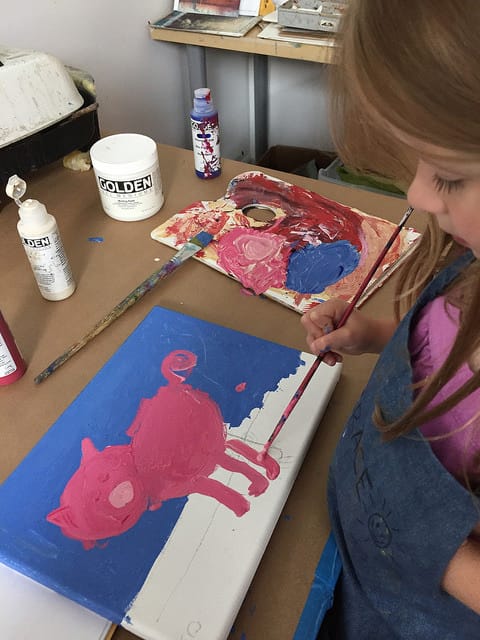 While we waited for the pig to dry, we decided to deviate a bit from the instructions and cut out colorful shapes with scissors and a hole punch and use them to create flowers in the grass.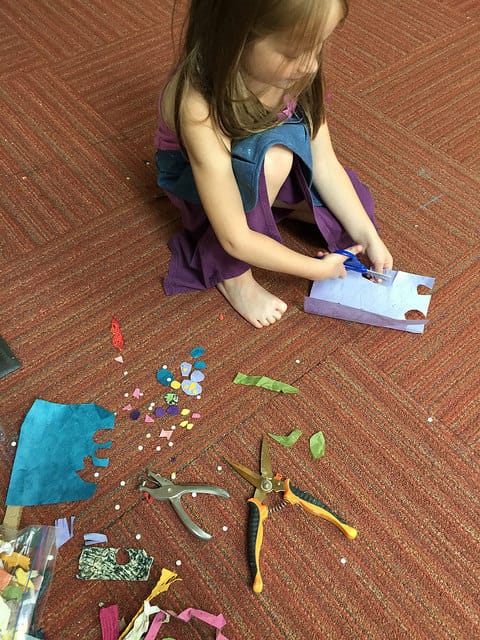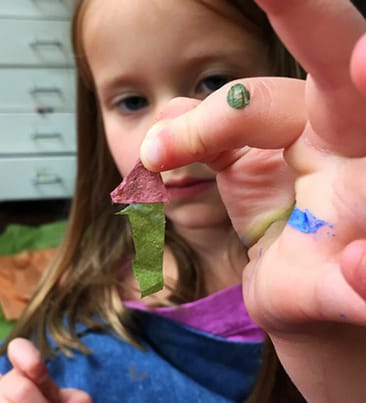 Grace was very excited with her creation of what she called "colorful trees for her garden"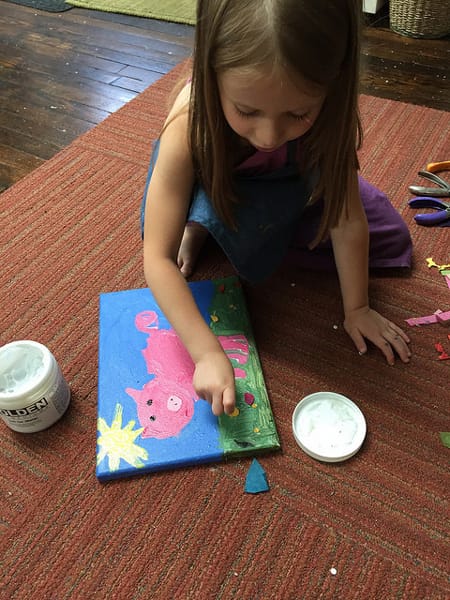 I cut out the fabric for the pig's outfit. It was actually fabric from a Free People shopping bag when I bought something there. I had cut it up and saved it for projects with the kids. You never know when you need a colorful piece of fabric! Grace thought it was perfect for her pig. Grace also came up with the idea of adding a button. I suggested adding buttons all the way down, like a shirt. But she absolutely did not want to do that and said the button is the pig's bell. I've learned with my kids that it's best to let them take the project in the direction they want rather than impose my ideas or sensibilities. It is their art after all!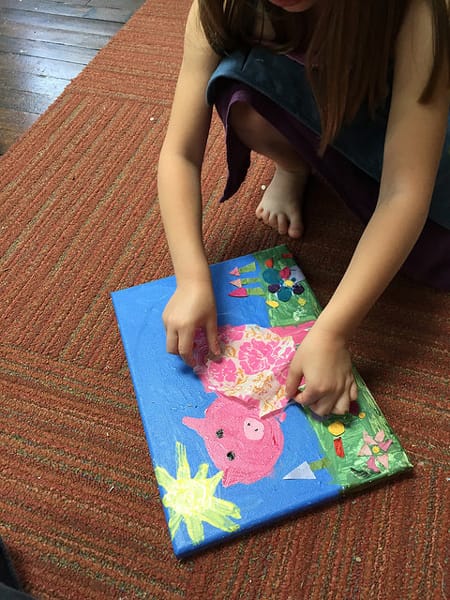 And here is her finished painting. I just love it and so does she! It is now hanging above her bed.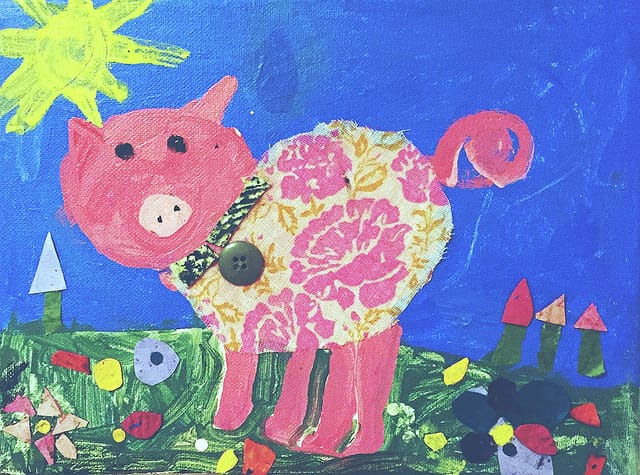 As part of this blog tour I will give away a copy of Art For All Seasons. All you need to do is a leave a comment here or on any other place you may find me. Instagram, twitter, or Facebook. I will do another post next Thursday, June 11, sharing an activity we did with my 8 year old son and draw the name. I can't wait to share that one as it turned out really well too and has a much looser feel than this adorable piggy. So please comment between now, June 4th and June 11th.
To Get a Free copy: please leave a comment answering this question: what is your favorite art activity to do with kids OR you can ask me a question about doing art with your kids.
As a former teacher and as a mother now, I have observed and experienced that kids have a tendency to argue with their moms than they do with their teachers. It's just a fact of life. I know, it can be daunting and sometimes may turn out to be a nightmare (picture paint all over the table or glitter explosion everywhere), but it is such a good thing for all involved. Really!