food + art: apple pie crumble
It's been quite a while since my last food + art post, but I couldn't let fall go by without posting an apple recipe. I drew the apples in my journal over the summer during my 30 days of drawing challenge. The text is a Kahlil Gibran quote.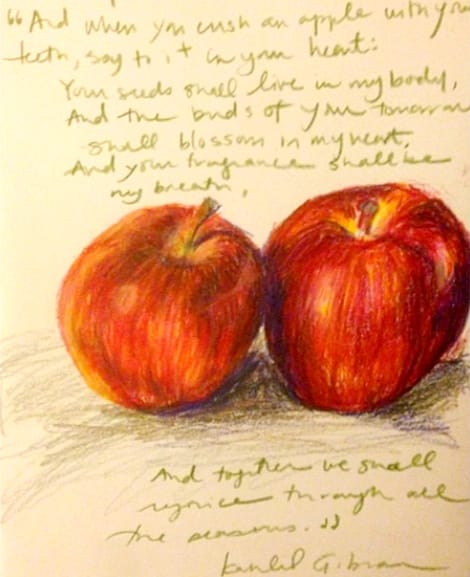 On to the recipe. This recipe is a combination of two apple pie recipes that I have made. I actually am not fond of apple pie. It always seemed kind of gooey or gluey. Gooey texture freaks me out. Maybe I just never had a proper apple pie. I will probably attempt to make a proper apple pie one day- they look so pretty with their covered dough topping. But this concoction that I make suits me just fine and it's really quick to make. It's a mix between an apple pie and an apple crumble. I have found that it's best to use tart apples when baking. And, yes, to save time, I did not make my own crust. I used a deep dish pie crust that can be found in the frozen section. If I made everything from scratch, then I would not have time for anything! So I cut corners here and there. Depends on my mood and schedule. This is a great recipe to have little hands help with the mixing and measuring.
Apple Pie Crumble
Filling:
1/4 c granulated sugar
2 tbs cornstarch
1/2 tbs ground cinnamon
4-5 cups of thinly sliced peeled apples (depends on how much you think will fit in your crust)
Topping:
1/2 c all purpose flour
1/2 c firmly packed brown sugar
1/3 c old fashioned oats
pinch of salt
4 tbs cold butter, cut into 1/4 inch pieces
Preheat oven 375 degrees.
For the filling: Mix filling ingredients all together in a large bowl. Place the mixture in the frozen pie crust.
For the topping: Mix topping ingredients all together in a medium bowl. I find that using my fingers to integrate the butter with the rest of the ingredients works much better than using a fork. Sprinkle on top of the pie filling.
Bake for 25 minutes at 375 degrees. After the first 25 minutes, loosely cover with aluminum foil* and bake for another 25 minutes.
Eat at room temp or warm up. If you warm it up, it Would be amazing with vanilla ice cream on the side, I think. Mmmmmm.
* You may not need to add the aluminum foil. My crust was browning pretty quickly at that point, so I covered it. Just check at the midway point and see what you think.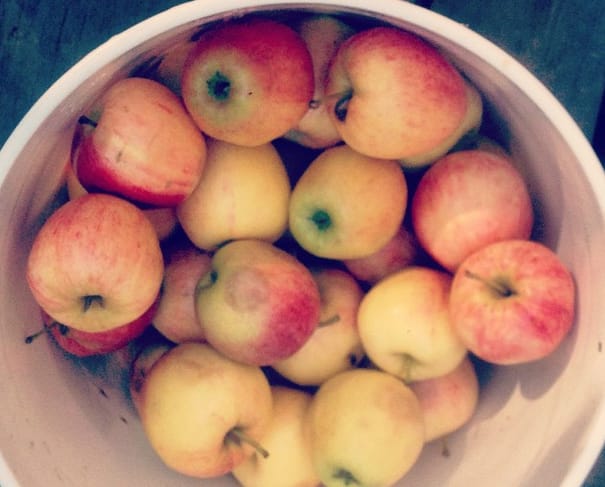 this image just captures fall
*************************************************************************
Thank you all for your sympathies in regards to saying goodbye to my dog. I still feel like I catch him from the corner of my eye. It's hard to get used to the absence of a constant presence in one's life. He was always tripping me in the kitchen and I miss that. I also miss that he was a vacuum for all the crumbs that we make at all our meals! I find that I am having to vacuum more often now. The little things.