food+art: coleslaw
Lately I have been having to bring two tote bags to the library. One to haul all the kids' books, the other to haul a metric ton of cookbooks for myself to pour over. I love cookbooks. Especially ones that have beautiful photos or illustrations, like Home Made

and The Pot & the Palette Cookbook
and The Bloomsbury Cookbook: Recipes for Life, Love and Art
. For several years I have been thinking of writing short essays accompanied by a drawing or photo of my family's favorite recipes. Growing up first generation child of Filipino and Central American parents we definitely did not have your typical American meals on our table. I spent a lot of time in the kitchen and in our filipino vegetable garden. I was so American though in my palate and so I often refused to eat many of the foods that my parents loved. Luckily my palate has expanded as I've gotten older. I mean, how did I live my whole childhood and teen years rejecting the lovely and delicious avocado?! I love avocados now and feel that my life would be diminished without it.
I've noticed that already in my first week of daily drawing that I have gravitated towards drawing fruit and vegetables. Often while I cook I take photos of the prep work, which will show up in my IG feed. I just think that the shape of the fruits and vegetables are so beautiful, and the colors are so vivid and gorgeous. Last night I made coleslaw and saved one of the cabbage leaves to draw with colored pencils later. Here it is and below is my recipe for coleslaw.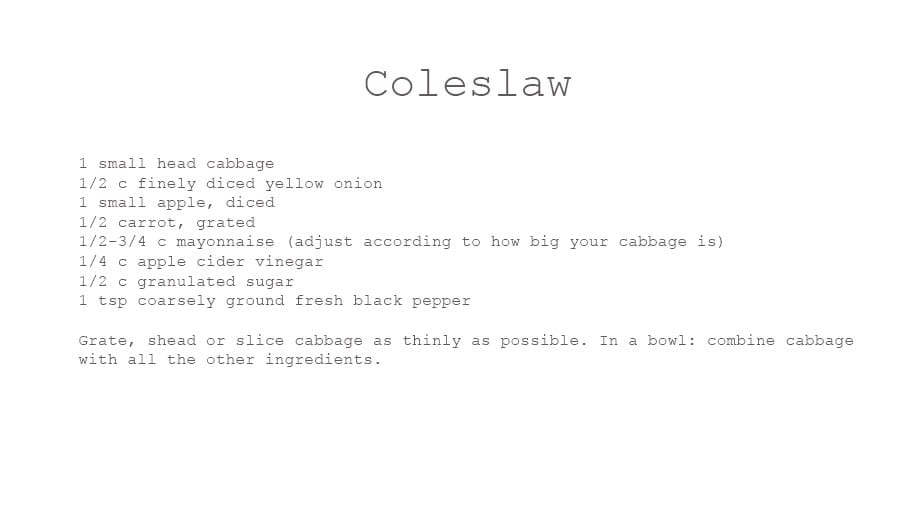 I adapted this very simple recipe from a book called Sacramental Magic In A Small-town Cafe: Recipes And Stories From Brother Juniper's Cafe
by Br. Peter Reinhart. I found this treasure in the bottom of a pile at the huge, I mean HUGE, used book sale that the Seattle Public Library would have once a year at Magnuson Park. If you love books and don't mind crowds, this is a must. An airplane hangar filled to the brim with used books?! Heaven! I do miss that sale since we left Seattle. Anyway, the recipe in this book is very basic which makes it easy to add things to your taste. I added the carrot and the apples and reduced the mayo. This coleslaw has spoiled me for any other coleslaw. Really.
I also want to recommend using a fresh head of cabbage rather than the store bought already shredded cabbage. I know, I've resorted to those bags myself when there's a time crunch. But honestly, it just tastes like plastic to me. If you can, take the time to slice, shred or grate the cabbage. You'll be happy you did. Another interesting addition if you like pineapple is to chop up some pineapple and add that to the coleslaw mix instead of apple.