Golden Hill
"Color is vibration like music; everything is vibration." -Marc Chagall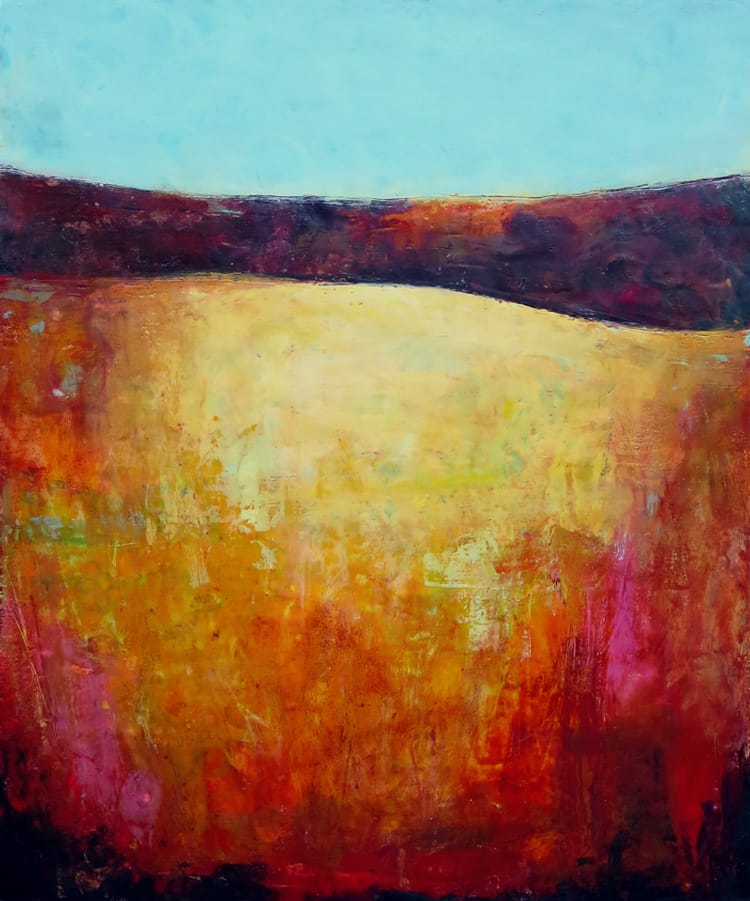 Golden Hill
encaustic
30×24 inches
I have always thought of myself as a sponge- soaking in what is in my environment whether it's visual or emotional content. Probably for this reason it is really important for me to live somewhere that is beautiful, or at least harmonious. Also why I like to spend time alone and being somewhere where there are too many voices and emotions shouting over each other is my idea of personal torture. One of the reasons why my family and I have a tradition of going out hiking on Black Friday every year. I'd rather be on a trail far, far away from any store, I don't care how much money I'll save!
I have mentioned before that the colors of my environment tend to seep into my paintings without my knowing. In Seattle, my paintings had a lot of blues and misty greys. In Chicago, ochre, rust and concrete grey crept in. And now here in Maryland, I am noticing more green……and gold, depending on the season. We live in a wooded area and in the fall we are surrounded by leaves that glow in the sunlight. I finished this painting in early November at the height of the fall colors around these parts. This hill is a field nearby and I saw it one fall afternoon, completely ablaze in the late golden light. I knew I had to capture it somehow.
I have to admit that it's a bit uncomfortable to have such bright glowing colors in a painting because my usual is earthy, but toned down, usually whites on white. But at the same time, I love it! I love letting my color show. We always are exposing ourselves when showing our work, but showing all this color makes me feel a bit exposed. I have really been having such a great time in the studio working with color and exploring landscape in this way. There's something in that.
"Who told you that one paints with colors? One makes use of colors, but paints with emotions." -Jean Siméon Chardin