Homeward Bound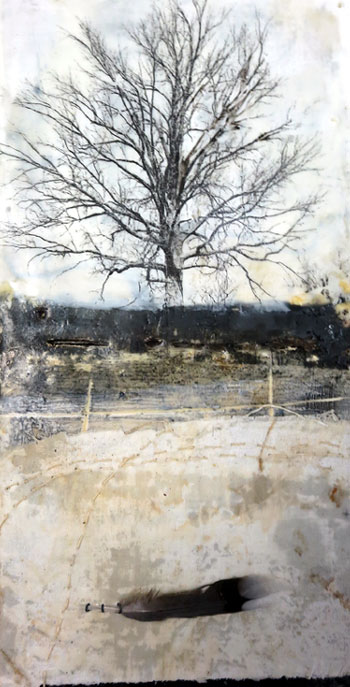 Homeward Bound, encaustic mixed media, 6×12 inches
After I found out about my hive's disappearance I spent the next morning with a friend searching for it. I just have a feeling it was tossed somewhere. We did not find it, but it was comforting to have the company. I returned home empty-handed but back into the studio I went. Head down and determined to get back to work. Thank God for deadlines and for the comfort I always find in creating.
I have an upcoming show that I need to get work created for. The theme is "Flight". I had sat down and brainstormed about flight and I have since created a few new works that I am excited about. The above painting was the first one done. The tree image has appeared in my artwork since I was very young. My first linocut print I made in 6th grade art class was of a winter tree to illustrate a very depressing poem I wrote about leaves falling to the ground. ha! But trees are very grounding for me. And often when they have appeared in my work, it's a sort of self-portrait. Birds in my artwork, especially, crows, usually symbolize dreams/visions and sometimes connections to the spirit world.
When I have done guided visual meditation, I always have had to focus on a tree in my mind's eye to ground me in the beginning as my thoughts tend to wander. It's actually a tree that is in my neighbor's yard. I see it everyday, it is a part of my life. Adding a tree to this painting at that time in the studio was a way to ground me, give me a sense of stability. I think of the feather as guiding me back to what I know, to what is safe….and that has always been in the actual act of creating. When I am making things- the world makes sense, I feel my sense of place in the world.
One of the other artists who also had a piece destroyed and stolen sent me this quote that day and it helped me to get back into the studio to where I can make things right for myself.
"The people who were trying to make this world worse are not taking the day off. Why should I?" -Bob Marley