In the Field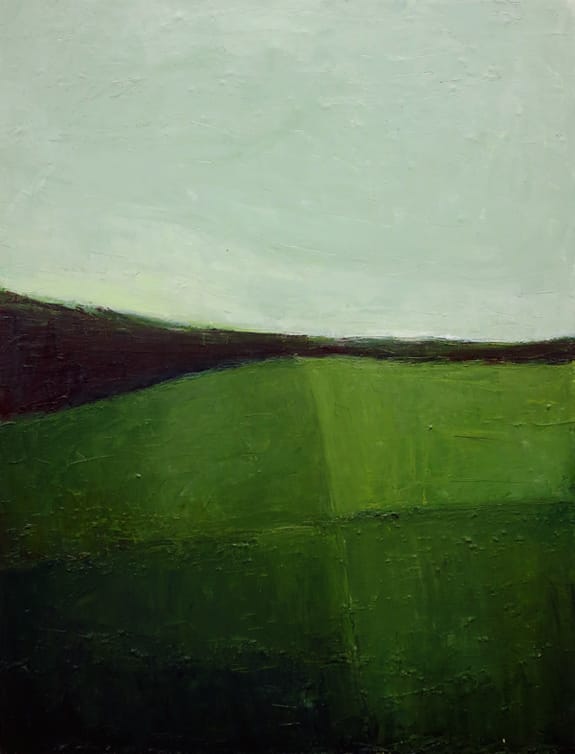 In the Field
oil on canvas
24×18 inches
It's the busiest time of the year and days, weeks, have gone by since my last post! I hope to be more consistent in the coming year. Who knows though- life is so unpredictable. This past year I have had to make choices like- blog or paint. The choice is pretty clear. I am really behind in writing up on my recent landscape paintings though, so hopefully I can catch up in a timely manner.
This painting was inspired from one of my plein air excursions. I actually did not paint it outside or even do a study outside. I snapped a photo and then walked on and painted something else entirely. But I came back to it a while back and really wanted to paint it. It went through many phases. When I first started painting it I stayed true to the what I saw before me- the texture of the grass, the fluffiness of the clouds, etc. And it looked nice, like a nice green field…….but not what I wanted.
Again, I had to repeatedly ask myself "What am I wanting to express? Is it a sight that I saw as it was right before my eyes or my own interpretation of it?"
And my answer was always- no, not what I see, but a suggestion of the actual view in front of me. I want to express what my senses were filled with at that moment.
At that moment, it was the lush green of the field. The green upon green upon green.
"Painting is a conversation. Make your speech deliberate, not full of babble, nonsense. Be sure of what you want to say." -Timothy Chambers
I like this quote, may not be true for everyone's creative process, but it is true for me.