Lead Me to the Water, a commission of Padilla Bay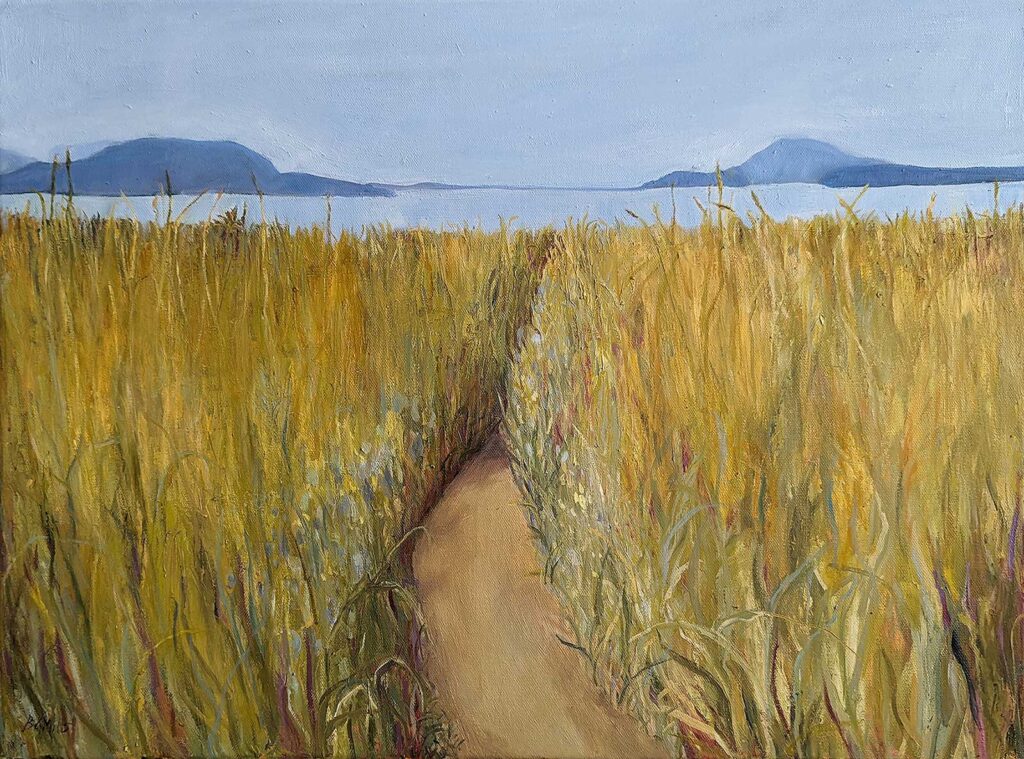 When I visited Washington this past summer I brought along a watercolor sketchbook and my gouache set. Did I use them during our stay? Sadly, no. It was really hot that week and it kind of zapped my energy as we were also in squeeze every bit out of every moment in our long awaited vacation to the pacific northwest. But I took photos and collected the inspiration through my camera.
When we got back home I took out my gouache set and painted a small painting on watercolor paper of a scene that I saw when my daughter and I went to check out Padilla Bay. It was a hot and very sunny day, the tide was low and it was very smelly! So instead of our planned walk along the beach, we walked over to the side and it was filled with tall wild grass with a dirt path peeking from underneath. I have a soft spot for areas filled with tall wild grass and so I got down low and snapped a photo.
I posted the gouache painting on social media and I was contacted to see if I would do a commission of the same scene in oil and much larger. So I began and it took a few weeks as I was building layers and layers of the grass and the layers needed to dry. Below is a work in progress of the paintings on my studio wall.
It was fun to go from very small to much larger. I took my time and even had to buy a teeny weeny tiny brush for the delicate grass that extended at the top. I feel like this painting really needs to be seen in person and up close too! I am grateful to have had the opportunity to paint this scene a second time and that it is now across the country in its new home.
{The original 8 1/2 x 5 1/2 inch gouache study is available in my online shop}