Lightness of Spirit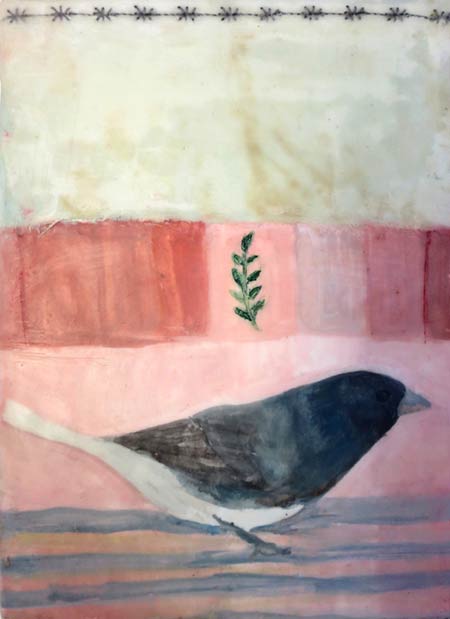 Lightness of Spirit, encaustic mixed media
I've been working on taking some of my gouache paintings from the 100 Days of Birds series and attaching them to a wood panel and further developing it into an encaustic mixed media painting. I just love to bring different elements together in one piece and it's been fun to do it with my birds. During the series I learned that Dark-eyed Juncos are a favorite bird of mine. I loved painting them.
I have been titling these mixed media bird pieces for this series based on meanings and folklore around the featured bird. The Dark-eyed Junco brings messages of being light in spirit. It has a beautiful little song and it reminds us to express truth in spirit with joy and lightness.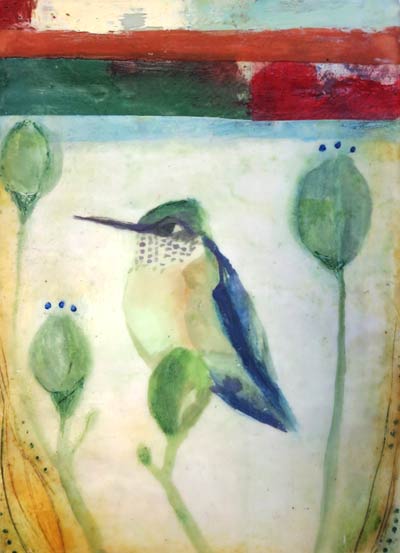 Sweetness of Life, encaustic mixed media
The hummingbird can tell us to look beyond the tough and the bitter for the deep sweetness of life. They are symbols of joy and healing across different cultures.
I love thinking of birds as messengers. I've mentioned before that doing the 100 Days of Birds was a healing process for me. I will always think of this series as a respite for me. They have brought me peace and grounding in a surprising way. I just love to paint them and am glad to be developing a few of these fewer into mixed media pieces.
I will be sending these and a few others to Lark and Key in a few weeks for an upcoming small works show.