Looking Back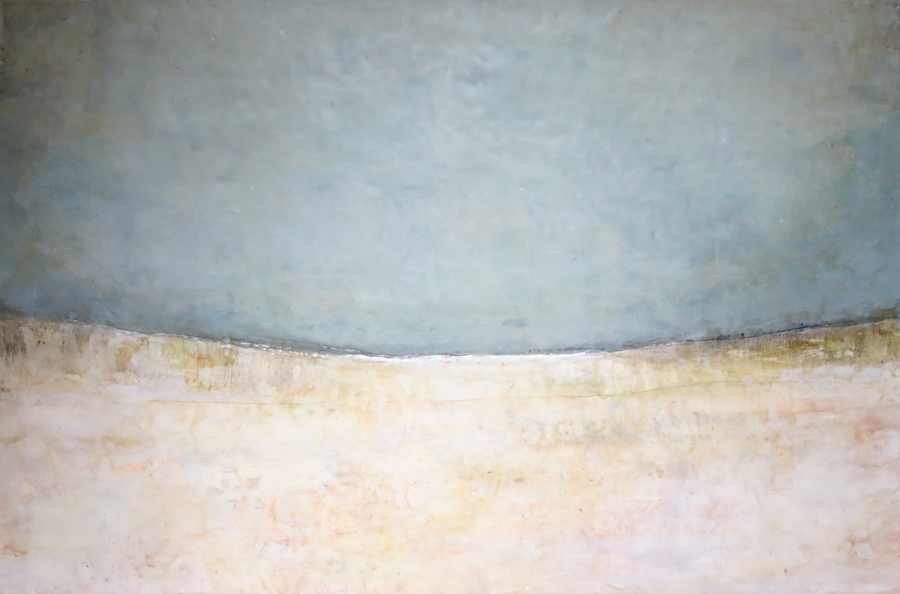 Looking Back
encaustic
40×24 inches
I am sure that it is common that one's mood or state of mind dictates what appears on the canvas. It can be a reflection of how one feels or often as it is in my case, it is a reflection of what I wish to create in my life. Often when I am feeling a bit cluttered in my life- whether that means emotionally cluttered or busy cluttered- I tend to turn to my canvas and create a sense of openness and calm. I am sure people assume I am a very calm and serene person based on my paintings. Well, I hate to disappoint anyone- but, no. Ha! I'm not loud or crazy or anything like that. But my mind is often churning, churning, churning.
This landscape painting was one of those created in order to create peace and calm for myself. The image though was inspired by a beach walk I took this summer on a Delaware beach, early morning. The weather forecast called for stormy skies. The wind was strong and the waves were loud. I was standing with my feet in the water, allowing the ocean to tug and pull at my toes and I was look back towards the sandy hill and the sky.
I also did a companion little study piece in oil. Hopefully that will dry soon and I can share here.