On my Kitchen Table: Blueberry Muffins with Cinnamon Topping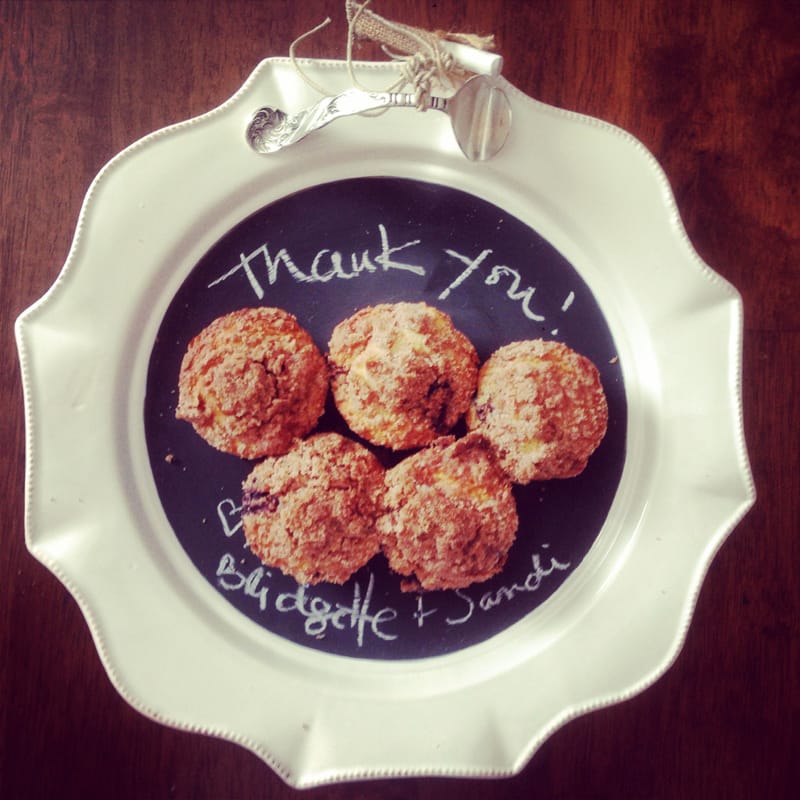 I truly feel that creations made in the kitchen can be the very best, most heartfelt gifts. The time and the effort that goes behind making something edible adds to the nourishment. When I made this platter of Blueberry Muffins with Cinnamon Topping, I purchased this cute platter that had a chalkboard bottom so I could write "Thank you" on it from myself and a friend of mine. I loved the curved spoon at the top that is the handle of the platter. The person that I was gifting the muffins too is an avid entertainer, so I figured she would get good use out of the platter. I'm no Martha Stewart, but I think making a little effort in the presentation of the edible gift makes it give it a little more impact, don't you think? And then the person has something from you once the food is gobbled off. I've wrapped my Chocolate Chip Banana Bread in really pretty tea towls when I've gifted them. Or put my homemade granola in Ball jars with ribbon or fabric.
I recently made these muffins when I had the gallery studio visit. Again, I feel like there is no better way to say a heartfelt thank you like this batch of blueberry muffins!
This recipe comes from my red recipe box that has treasured recipes handed to me from family and friends. My mother-in-law made these muffins many years ago and from my first bite I knew that I needed this recipe. I believe it came from a newspaper clipping- either the Chicago Tribune or the Daily Herald many years ago.
Bluberry Muffins with Cinnamon Topping
1 1/2 c all purpose flour
3/4 c granulated sugar
1/2 tsp salt
1/2 tsp baking powder
1/3 c vegetable oil
1 egg
1/3 c milk
1 c fresh blueberries
Crumb Topping
1/2 c sugar
1/3 c all purpose flour
1/4 c butter, cubed
1 1/2 tsp ground cinnamon
1. Preheat oven to 400 degrees. Grease muffin cups or line with muffin liners.
2. Combine and mix together 1 1/2 c flour, 3/4 c sugar, salt and baking power in a large bowl.
3. Place vegetable oil into a 1 cup measuring cup. Add egg and enough milk to fill up to the 1 cup capacity. (Should be 1/3 c of milk) Mix. Pour this mixture into the flour mixture until just mixed. Fold in the blueberries. Fill the muffin cups. Sprinkle with the crumb top mixture.
3. Crumb Topping: mix together 1/2 c sugar, 1/3 c flour, 1/4 c butter, + 1 1/2 tsp cinnamon. Mix with a fork (or your fingers!) and sprinkle over the miffins before baking.
4. Bake 20-25minutes or til done.
Makes a dozen muffins, which I guarantee will disappear very quickly!