On the Sparrow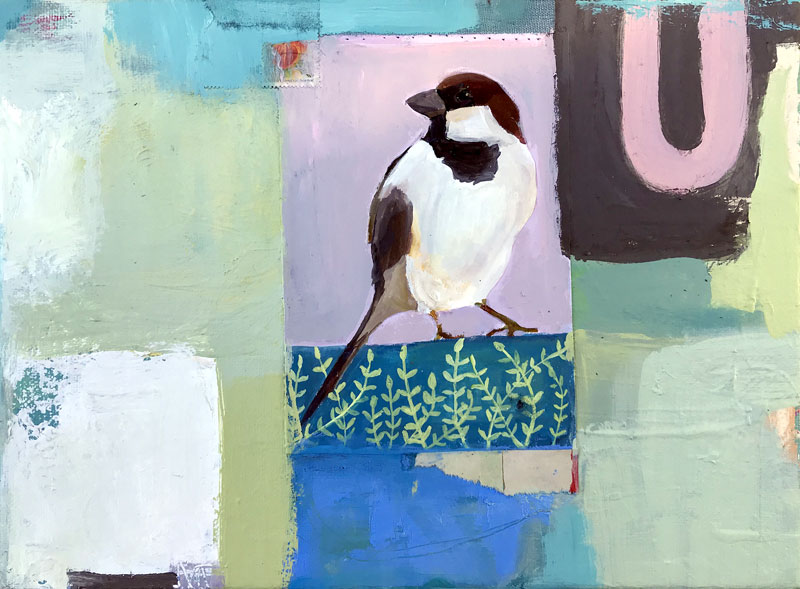 I am generally pulled to creating moody earthy paintings, but there are times when I need to express myself in color. This past February was one of those times. I also took a break from painting with wax and returned to acrylics and collage. But this time I was collaging in my gouache paintings from my 100 Days of Birds series I did a few years ago and incorporating them in with other papers, textiles, and acrylic paint.
When I was looking up the common sparrow I read about how the sparrow is found all over the world. Where humans are and create their homes, you'll find the sparrow. They've been among us for thousands of years and have often been viewed as a pest. As is the case when things are common, we fail to see their value.
I also came upon the hymn "His Eye is on the Sparrow" and how a woman named Civilla D. Martin, wrote the poem in 1905 after visiting friends who both had a very hard life but had a deep faith and kept their spirits up. When she asked her how they did that, their reply inspired her to write these words:
Why should I feel discouraged,
Why should the shadows come,
Why should my heart feel lonely
And long for Heav'n and home,
When Jesus is my portion?
A constant Friend is He:
His eye is on the sparrow,
And I know He watches over me;
His eye is on the sparrow,
And I know He watches me."
She sent the poem to a composer in Chicago who set it to music and it became a gospel hymn. I love this version sung by Mahalia Jackson. The Whitney Houston version is lovely too.
I've been feeling spiritually ambivalent lately, but reading these lyrics and the scripture associated with it, it is comforting to feel that we are watched over and cared for, just as the tiny sparrows.