Discernment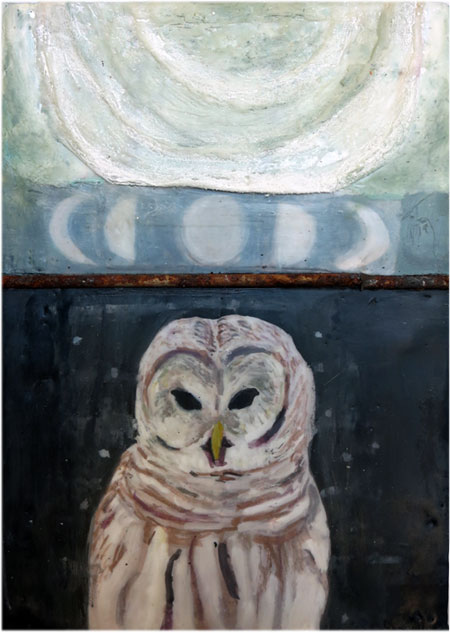 Discernment, encaustic mixed media, 5×7 inches, matted and framed to 8×10 inches, $250, available at Lark and Key Gallery.
In the spirit of Halloween last night, I wanted to share Discernment. So many different superstitions and beliefs surround owls in cultures around the world. The owl is often associated with mystery, the spirit world and the unknown. Because the owl is a nocturnal creature, the moon is a fitting partner which then brings in associations with natural cycles and female energy. It's ability to see in darkness emphasizes discernment and the ability to see through illusion and deception.
There have been several times when I have been outdoors and I hear an owl overhead…it always makes me stop and still myself. I am not afraid, but there's just something about it that calls for silent recognition. Their silent flight is awe inspiring if a little unnerving though, I have to admit!
The Barred Owl lives in mature large blocks forests of large trees, often near water. Unbroken masses of woodlands support a higher diversity of prey for the owls and are also more likely to have large cavities in the trees that they use for nesting. They used to be an Eastern bird, but can be found all the way to the Pacific Northwest. Their particular call sounds like "Who cooks for you". For more information on the Barred Owl, visit the Cornell Lab of Ornithology All About Birds website.
I first painted the Barred Owl in gouache on my 76th day of my 100 Days of Birds. Last month I decided to further push the painting with encaustic and other materials on a panel. My favorite addition to the painting is the metal piece above the owl's head.
To finish the painting, I created a floating mat, meaning the mat is raised level to the painting and then framed without glass and the mat also does not touch the painting's edges. I just love the organic edges that painting in wax creates and feel like it should be seen. I typically don't like to put encaustic behind glass either, so the raised mat finishes the painting nicely. This painting is part of the Ornamental show that opens at Lark and Key this Friday, November 3rd. You can see the painting in its frame and matting in the previous sentence.
Ornamental
NOVEMBER 3 – DECEMBER 30
Lark and Key Gallery
128 E. Park Ave, Ste B, Charlotte, NC 28203
Opens Friday, Nov 3rd from 5-8pm, during the South End Gallery Crawl.
Small works 12″ and under by:
janet eskridge
elizabeth foster
diane hoeptner
duy huynh
judy klich
bridgette guerzon mills
angie renfro
kendra baird runnels
vicki sawyer
mary alayne thomas