Persistence of Being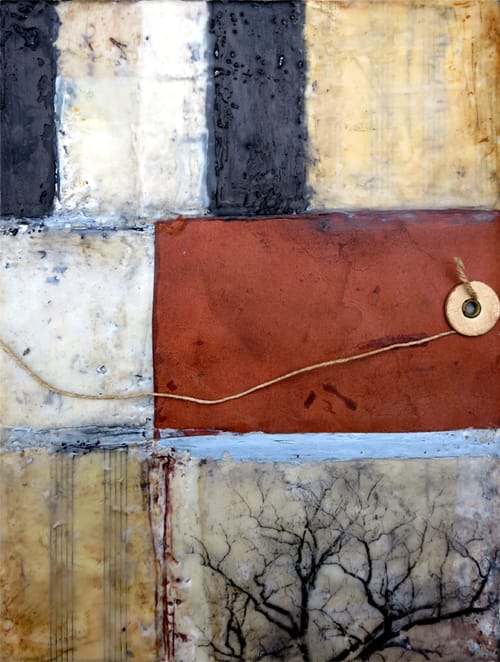 Persistence of Being
encaustic mixed media
8×6 inches
I created this panel the other week, starting to prepare for a spring group show. I am not sure if in the end I will send this one as it depends on what else I create and if it all fits in together. Either way, I am looking forward to the journey to that point. It felt good to be painting again and pulling in different materials. I am so grateful for this practice and process. I found that envelope piece in an old shed buried among piles of odds and ends. It had probably been sitting there for 50 years I am thinking. Maybe more. I found lots of great things in there that will be making its way into my work at some point and already has. I had used some old metal rods to bind one of my books in the Field Guides installation. I love to give new life to things that are abandoned or would just end up in a landfill.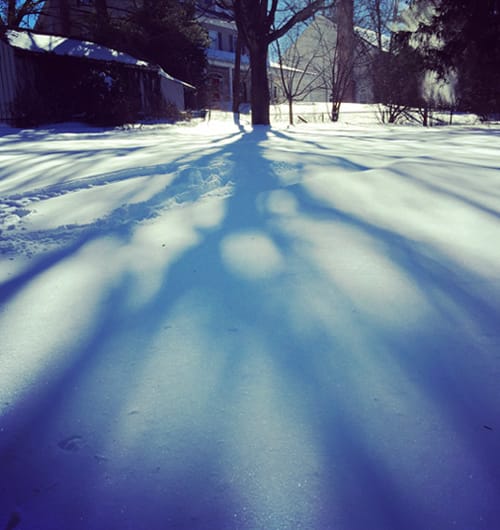 We've been buried by snow since Friday evening and last night our street was finally plowed at midnight. Our region got 29.5 inches of snow in the final count! Having a fully stocked our pantry and fridge, a heated home, and having no where to go, it was cozy. I love winter- being inside during winter where I bake and sit in front of a fire and being outside and feeling the sting of the cold wind as well. I think having lived in the midwest where winters can be long and trying, you learn to embrace winter and just make it part of your life. The tendency here is to panic and life stops. Ah well, different regions, different expectations. I personally panic and come to a stop during the humidty of the summers. But in winter, after the snow blankets the streets, we pull out our snowshoes and explore and sled and build forts. I love the saying- there is no such thing as bad weather, just inappropriate clothing. Although, with the crazy climate changes and the recent nationwide bad storms that wreak havoc…I'd say that there is bad weather. But if it's not so bad, bundle up, and enjoy what you can and live in the season.
First Snow
The snow
began here
this morning and all day
continued, its white
rhetoric everywhere
calling us back to why, how,
whence such beauty and what
the meaning; such
an oracular fever! flowing
past windows, an energy it seemed
would never ebb, never settle
less than lovely! and only now,
deep into night,
it has finally ended.
The silence
is immense,
and the heavens still hold
a million candles, nowhere
the familiar things:
stars, the moon,
the darkness we expect
and nightly turn from. Trees
glitter like castles
of ribbons, the broad fields
smolder with light, a passing
creekbed lies
heaped with shining hills;
and though the questions
that have assailed us all day
remain — not a single
answer has been found —
walking out now
into the silence and the light
under the trees,
and through the fields,
feels like one.
~Mary Oliver
Stay warm and be safe wherever you may find yourself!