Red Barn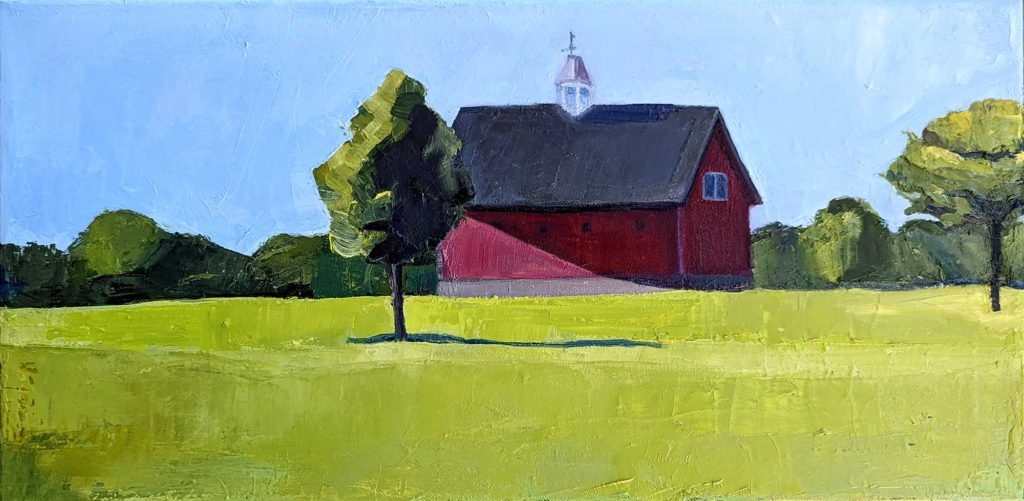 The month of September had me in front of my easel with my oil paints on my studio table as I was working on a commission of a a wild grass scene out in the Pacific Northwest. This is obviously not a wild grass scene out in the PNW, in fact, the exact opposite! I saw this red barn out here in Baltimore County over the summer and snapped a photo of it.
The trees, treeline, bushes, and grass were mainly painted with the palette knife. I just love to lay down the paint like I'm spreading butter on toast. I really love abstracted contemporary landscapes where the artists do that. Whenever posts by Jivan Lee or Lise Temple pop up in my feed on Instagram, I think my heart skips a beat. I also really admire the way my friend Deena Margolis handles paint. She usually paint in gouache, but lately she has been doing oil paintings and I just love them. I love gouache too, but oils just have that substance to them.
Anyway, this painting started out as a contradiction to the commission painting which has more detailed brushwork. At the end of my painting sessions with the commission I would switch from my tiny brushes to my palette knife and just lay down color and shape. Below detail shot was taken at the beginning of this painting. I really like the looseness.
As the painting developed in later sessions, the painting became more controlled…I am happy with the painting, but I think my aim is for somewhere in between. Hmmmm. I learn something from every painting. Each one is its own journey.
"I love your trees, mom, they are scrumdidaleeumptious"- my 12 year old when she came home from school and was looking over my painting. I also like that tree in the foreground. I was still able to hold on to that looseness of the palette knife and brush, but still conveying the form of the tree. Hmmmm….