Restoration
"Trees are poems that earth writes upon the sky…"~Khalil Gibran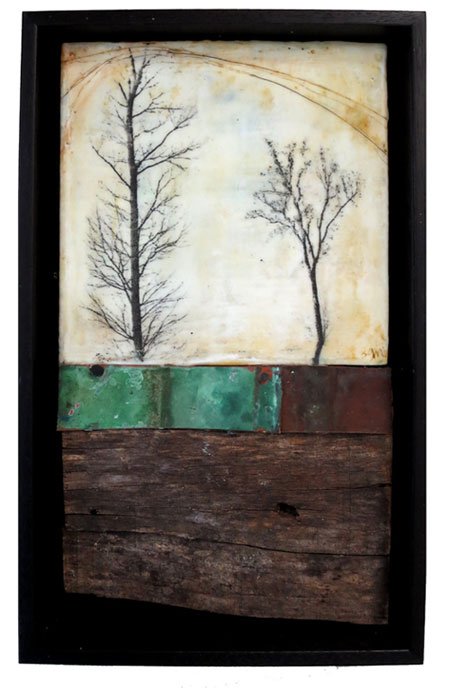 Restoration, encaustic mixed media, 6 1/2 x 11 inch frame
Lark & Key Gallery
-sold-
During my Maryland Master Naturalist training we hiked a trail through the woods and came upon an area that was very sparse. It was quite noticeable as all of a sudden we were no longer under giant treetops, but rather bare sky. There were a few tall trees here and there and then smaller trees with tags on them that had been recently planted.
A Gypsy Moth infestation had taken place a few years earlier and had caused many trees in this area to weaken and die. These two trees that inspired this painting were the survivors of the mass defoliation from the hungry caterpillars. Once the infestation was under control the rangers and their volunteers began the journey of restoring the trees to this area and in so doing, restore the fragile balance within this ecosystem.
I wanted to create a painting honoring these survivors as a testament to their perseverance. I was struck at that moment that the health of the natural world depends on us all, no matter how small of the corner of the world. There are people out there who care and dedicate their limited free time to help where they can. It can often feel very overwhelming reading the news these days, but I am finding that if you find your tribe of people who care and are willing to pitch in, it feels a little less overwhelming.
This piece has sold, but I have one more that I made in this recent series available at Lark & Key Gallery
More information if you're interested: https://extension.umd.edu/hgic/gypsy-moths-trees and http://mda.maryland.gov/plants-pests/Documents/gypsy_moth_egg_masses.pdf
"When we heal the earth, we heal ourselves." ~David Orr