Shelter In Place, work in progress
At the beginning of 2020 I was invited to submit a proposal for the Artists Dialogue with the Landscape Outdoor Sculpture exhibit at Adkins Arboretum. I was really thrilled to have been invited by the curators Mary and Howard McCoy who are environmental land artists and I love their work and they are such wonderful people.
Last year I had started a project that I had always wanted to do which was to take an old patio chair and transform it into an organic form that would seem to have sprung out of a forested ground. I started it and left it outside in my yard as I did not have to time to work on it. A friend of mine, saw it last year and encouraged me to keep working on it. But I really did not have the time in my schedule to devote to it.
Then along came the quarantine and I could no longer get into my studio as my family adjusted to home learning and working from home. Working in an encaustic studio really does require big blocks of dedicated time in the studio, which I no longer had. In times of anxiety I have a tendency to pick up knitting and crocheting and keep my hands busy creating and my mind occupied.
As the proposal deadline loomed, I found myself creating these organic plant-like and moss like crocheted forms. I also observed how as people were being forced to stay home, people increasingly were heading to trails and the outdoors. Whether it was out of boredom or a desperate need for the healing powers of nature that we innately turn to….I don't know. But I thought it was fascinating. And so the idea of and installation called "Shelter in Place" came to me.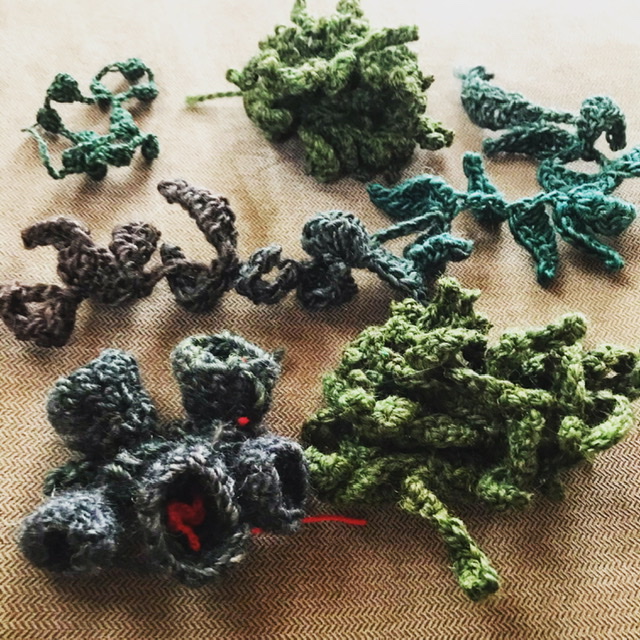 I thought of my nature chair that was sitting in my yard all these months and thought of the nature/home dichotomy. We live so separated from nature in our modern society. And yet, in moments of distress, we immediately seek out nature. I decided that I wanted to create a living room vignette in the woods at the Arboretum.
Below is a video of one of the chairs in progress. It still has a lot of work to go, but I was so happy working on this element. It includes coir, florist moss, collected pieces of branches that are covered with lichen, dried vines, sweetgum pods, and my crocheted bits and pieces. I plan to have another chair, and an end table (tree stump). I also will be doing some of my land art doodles in the "living room" that will be a rug. The curators also invited me to do some of my land art doodles randomly around the arboretum.
Whether or not the exhibit will happen or not is still up in the air. But I'm working as if. It's been a rough spring art-wise (won't mention life-wise as we all are going through it). I was to have my work in a museum exhibit this May in Santa Fe, which was postponed. And my workshop a the Islandwood art retreat that I was going to teach on Bainbridge Island this August was cancelled as well. The other shows planned for this year are also a big question mark. It's all worrisome and overwhelming…but working on this installation brings me momentary joy. It's my heart's work. And I am grateful to have this opportunity….hopefully it will happen!
If you don't know what my land art doodles are, I did a 100 days of ephemeral land art a few years ago. And I always do them, especially when I am out walking my dog. They are very meditative for me. I made a set of notecards out of them that are available on terrearts.com.