studio notes: weaving branches
At the beginning of the month I submitted a piece to be considered in an exhibit called Breaking Ground: Art About the Earth at Annmarie Sculpture Garden & Arts Center in Solomons, MD. Several years ago I trekked down to this art center and just loved their sculpture garden and art center. I wished so much that I lived closer to it. It's about a 2 hour drive south of where I live. I saw the call for art with this description:
"Art has long been a partner of natural science to document our experiences. Imagination and vision are required when responding to the challenges of our ever-changing environment due to climate change in urban and rural ecosystems. Annmarie invites artists to engage in our mission to connect art and nature by creatively visualizing the impacts of sustainability on our Earth. This show will feature works highlighting the fragility, ferocity, beauty, transformation, and stark realities induced by human behavior."
I mean, I had to submit.
Happy to report that my piece, Guardians was accepted. The first time I made Guardians, I made it for an Art on a Trail exhibit to be outdoors, and then I made another outdoors one for Artists Dialogue with the Land for Adkins Arboretum. After these outdoor exhibits, the piece has a lot of wear and tear from being out in the elements which I love. But I wanted to do one for indoors. I made one for a show at the McGuffey Center in VA.
This Guardian piece is the same one that exhibited in VA, but with a new addition. I added branches! In the outdoors I would attach the piece to a branch of the tree and then weave branches in and out of the original branch. I would secure them with some twine, but mainly just by the actual careful placement of the branches. It's a very meditate practice. Well, as meditative as you can be on top of a ladder on uneven terrain, with every muscle attuned to not falling. But, still, it is. It's about being present and responding.
This past week I had to create the branch weaving indoors without the tree being the main support. It was a several day process. But I am happy with the result and I know it will be secure for transportation as well as stable for when it is mounted to the wall.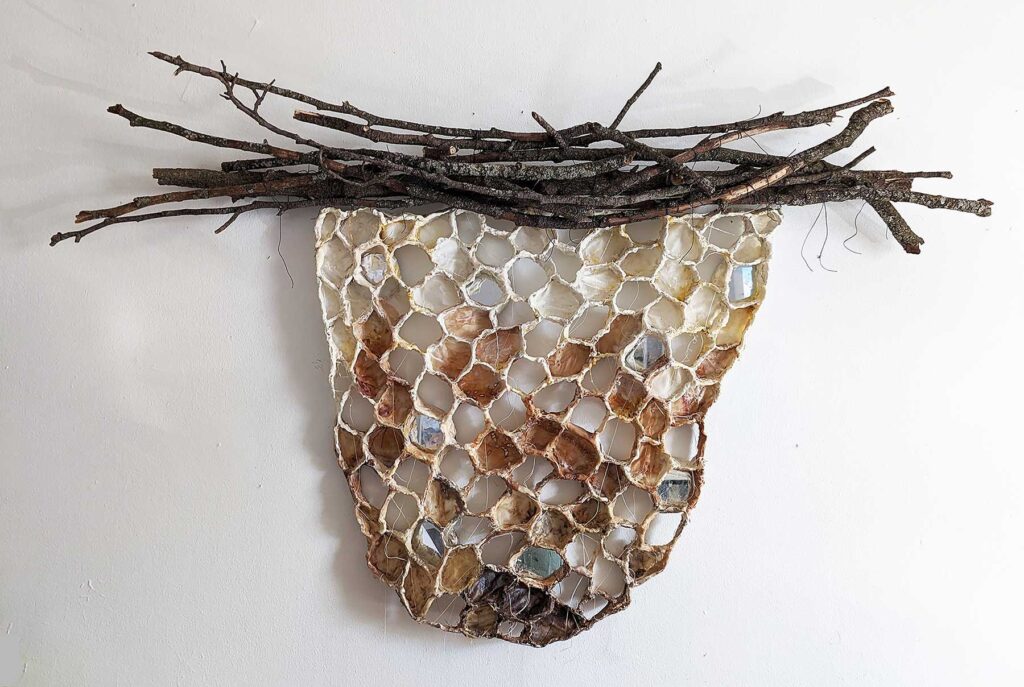 I even took a video to get up close which you can see over on Instagram.
I will post info on the exhibit next week. The opening reception is February 10, 5-7 pm. Working out the details to try to make it.
In other studio news, I started on a commissioned oil painting and I finally started laying down the paint yesterday and each time I start an oil painting, I am reminded how much I love mixing my paint colors and painting with my palette knife. It's like, hello old friend, I love you!