The Heart Remembers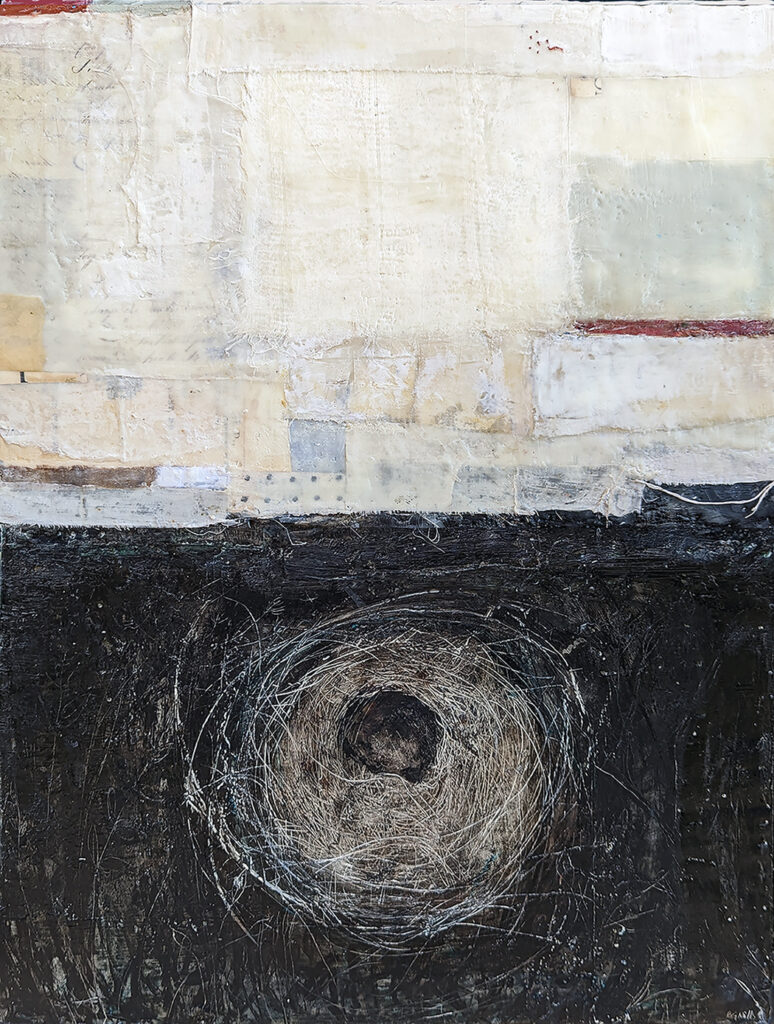 I started this encaustic mixed media painting quite some time ago. I can't remember exactly when, but it was several years ago. I had drawn/etched/painted the nest first and was happy with it, but just could not figure out how to resolve the top. And so it sat in my studio for a few years, waiting.
This past November I did a crow drawing on a found salvaged paper that I had been saving for just the right thing. I was very happy with the crow drawing and decided that I wanted to add it to this piece above the nest. I was hesitant because some paper types really do not interact well with beeswax. I have been doing this for so long that I knew that the risk was high and that this was one of those papers. At the last minute I was like, this is a bad idea but said to myself- no risk, no gain. So I went ahead and dipped my drawing in the wax and immediately knew that it was a mistake, but still I pushed on, not wanting to admit that I was right all along. I added it to the piece and tried….but I knew it wasn't going to work. So I had to pull off my drawing on my special salvaged paper and toss in the trash.
BUT. I continued on and I am so happy with how this piece came to be. Piecing together, gathering fragments from different materials….much like an actual nest. And when I found this poem…it all just fell into place.
"What the Heart Cannot Forget"
Everything remembers something.
The rock, its fiery bed,
cooling and fissuring into cracked pieces, the rub of watery fingers along its edge.
The cloud remembers being elephant, camel, giraffe,
remembers being a veil over the face of the sun, gathering itself together for the fall.
The turtle remembers the sea, sliding over and under its belly, remembers legs like wings, escaping down the sand under the beaks of savage birds.
The tree remembers the story of each ring, the years of drought, the floods, the way things came walking slowly towards it long ago.
And the skin remembers its scars, and the bone aches where it was broken. The feet remember the dance,
and the arms remember lifting up the child.
The heart remembers everything it loved and gave away,
everything it lost and found again, and everyone it loved, the heart cannot forget.
-Joyce Sutphen