The Space Between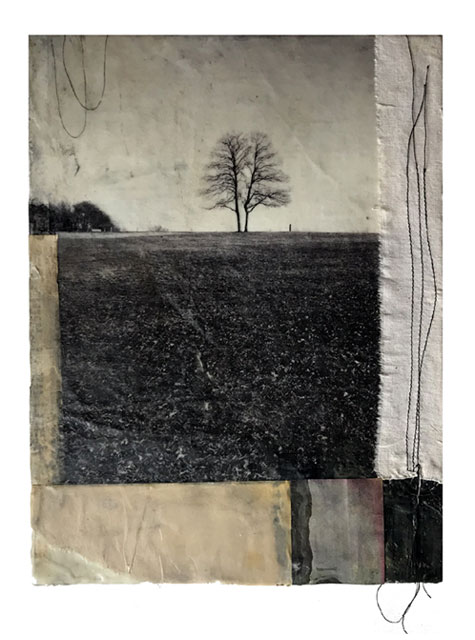 When I finally got light and electricity and put my piles away in my new studio, I wondered, well, now what? Even when my children were young and I was sleep deprived and grabbing studio time during naptime, I never felt this lost as to where to direct my attention to. The quarantine, virtual school, the gravity of the political situation, our move to a new home all added up to a tiredness that was so much more tired than chasing after my kids. A fatigue from being on high alert and worry for months really wore down any creative urge I had.
But I knew that I needed to start. And so I turned to the collages I did in an accordion book I created documenting the first few months of the shutdown. The original collages were 6×6 inches and I decided to revisit a few of them, but larger and with encaustic. This was the first one I tackled.
The title of this version was inspired by a podcast I listened to recently on the Emergence Magazine podcast called "Negative Love" by Daisy Hildyard. She talks about how living through this virus has led to people noticing the usually unnoticed worlds- the worlds of negative space, the spaces between and how absence exposes how we relate to others. We are all interconnected.
I think I listened to this while I was chopping herbs for dinner preparation and I remember her words catching my attention and turning my ear to make sure I caught what she was saying. I'm still thinking about it.