Turmeric and Ginger Tea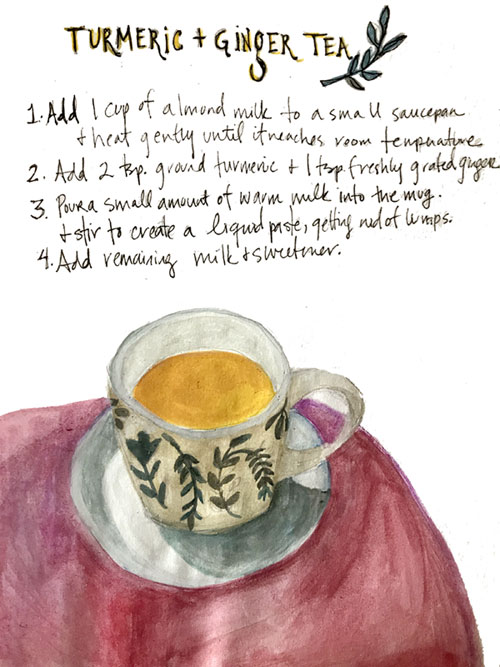 Last week I ran into a painter friend when I was bringing my recycling bin from the curb and he was walking his dog. It was so nice to see him as I hadn't seen him in a while and to talk about art… or rather the not doing of art with someone who understands. We both agreed that it's been a tough year to make the work. He told me that when he would find the time to paint, he felt very tight. I told him that I just feel so unsettled and distracted. Creating has always been such a centering practice for me- quieting down, centering in myself in order to hear what it is that I want to create or say. And I have just felt pulled in different directions and no direction at all at the same time.
I actually felt better after our brief chat and I went inside and made this tea from my recipe hoarding pile. It came from a magazine called Naturally, by Danny Seo. I can't find an original link to the recipe however. The only things that are different from my recipe above and the original is that it was called Cleansing Turmeric and Ginger Tea. And the recipe suggested also using rice milk instead of almond milk, and adding Stevia as the sweetener.
The spices sent a warmth down my throat that I really liked. And I don't know if I was cleansed, but I certainly felt a bit more centered. I painted this in my book last night as I watched Netflix Street Food Latin America. I seem to be obsessed with all thing edible lately. Probably a comfort thing. And a creative thing as well. I've always been that way- if I'm not in the studio, then you'll find me in the kitchen.