Versions of an Afternoon
A few weeks ago I pulled out an old photo I took 16 or so years ago of an afternoon we spent on San Juan Island in Washington. It was a typical cool overcast day in the pacific northwest and we were going to American Beach. To get there we had to walk by an expansive field of tall wild grass. To the side was a small mountain that was partially cleared. I remember laying on a flat stone and just looking up into the sky and feeling the wind and hearing the wind rush through the tall grass. The actual photo is of me lying on the big stone. I edited that out for the painting.
I did the above in gouache on paper. When I had prepared the paper, I prepped it with a bight pink acrylic that I happened to have. I like leaving bits of that pink peeking through. This py ainting feels very calm to me.
I decided to paint the same scene in encaustic. I'm trying to figure out what medium I want to use to capture what I am trying to get in my landscape paintings. I want my landscapes to feel layered and warm, like they are holding stories.
I really had fun with this one. I used a special awl that has a little ball on the end instead of a point to create that texture and expose the layers beneath. I feel like this version captures the wildness of that field.
I have been working on a third version of this scene! This time on a large canvas…I can't remember how big, but I think 4 ft by 3 ft and in oil. I'm thinking it might be somewhere in the middle of these two? I'm a little bit stuck which is why I decided to write this post. It's like how do I get what's in my head/spirit to gel with the scene and then have my hands execute it all? Well, that is the question always, isn't it?
My husband came into my studio this afternoon and I asked what do you think? He looked at it, smiled and said, keep going…which annoyed me because I thought I was close to being done. But I knew he was right. Which was actually the annoying part. Since it's an oil painting, I'll let it sit for a few days and come back to it.
I'm liking this doing three versions of the same scene practice. It's interesting how different each one is. I am trying to figure out which medium helps me say what I want to say best. The landscapes I've done in the past that I really like are the ones that have blocks of color and that feel like a patchwork almost. Like the land is pieced together.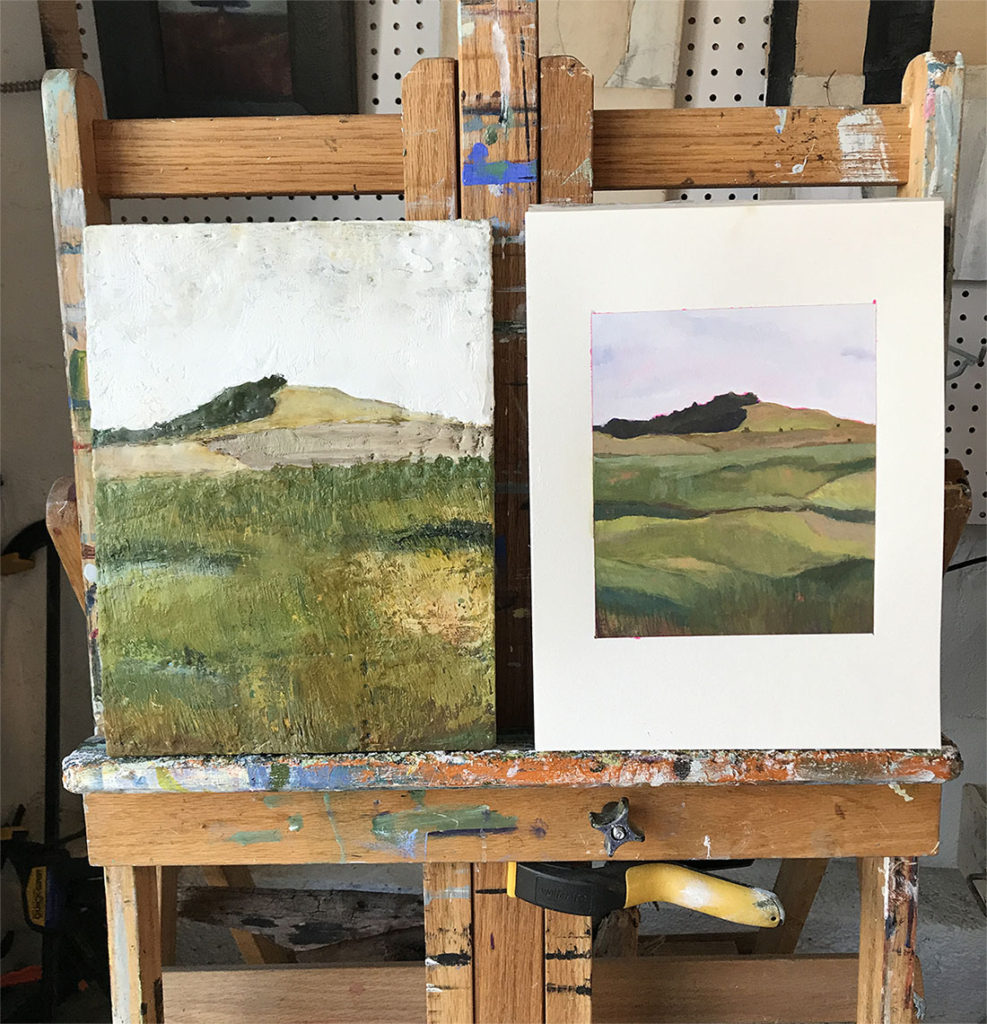 "There is a way that nature speaks, that land speaks. Most of the time we are simply not patient enough, quiet enough, to pay attention to the story." ~ Linda Hogan