When Time is Vertical, II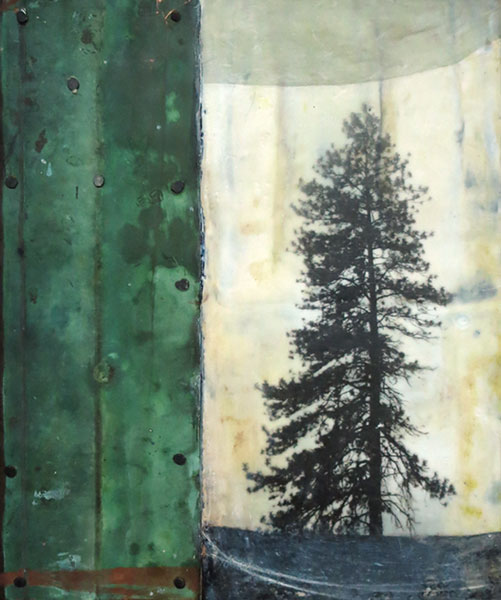 When Time is Vertical, II
encaustic mixed media
10×12 inches
There's that feeling of eternity when you stand by a big tall tree. We are taught to look at the circular rings of a tree to tell how old it is, but I find that just its presence is telling. How can you not feel small and so young standing next to a big old tree. I find it strangely comforting that the trees outlast us. Or at least, are meant to.
The Presence of Trees
by Michael S. Glaser
I have always felt the living presence
of trees
the forest that calls to me as deeply
as I breathe,
as though the woods were marrow of my bone
as though
I myself were tree, a breathing, reaching
arc of the larger canopy
beside a brook bubbling to foam
like the one
deep in these woods,
that calls
that whispers home
My husband got me The Hidden Life of Trees by Peter Wohlleben recently. I'm looking forward to reading it. I think that it's important to note though that many of these ideas are not all that new. Although maybe I should wait to have an opinion until after I read the book, ut I have read several article about it and the ideas within. When I read Robin Wall Kimmerer's book "Braiding Sweetgrass" she mentions that these "new" findings are what many native people have spoken of and have known and it is not in fact a new way of thinking. If you haven't listened to this podcast interview of her, please do, it's great. And her book is wonderful as well. I recently read this article about indigenous science that I found interesting.
This painting will be heading out to Wisconsin soon when the Cappaert Contemporary Gallery in Door County opens for the 2018 season. I am so thrilled to be represented by them. This next week I hope to post more to show the paintings that will be there.