Beloved Upon the Earth
When I signed on to teach a book arts workshop on Bainbridge Island in 2020, I set myself to creating a few new books as samples. One of the books I made was a small mossy book. I have made two moss books that were more sculptural works and that were part of outdoor installations. But I wanted to make a small book with moss covers, using fabric as the inside pages.
One thing I want to make clear first though is that I do not harvest moss from outdoor spaces. In some places, it is actually illegal to do so. And then after reading Robin Wall Kimmerer's moss book, I learned that it can take some moss colonies hundreds of years to create themselves. How incredible is that?! I prefer to leave them untouched, at least untouched by my hands. So I order moss from florist shops. The cloth I used for the inside pages are from either an old bedsheet or an old pillowcase. I can't remember now, but I like to repurpose rather than throw away whenever I can.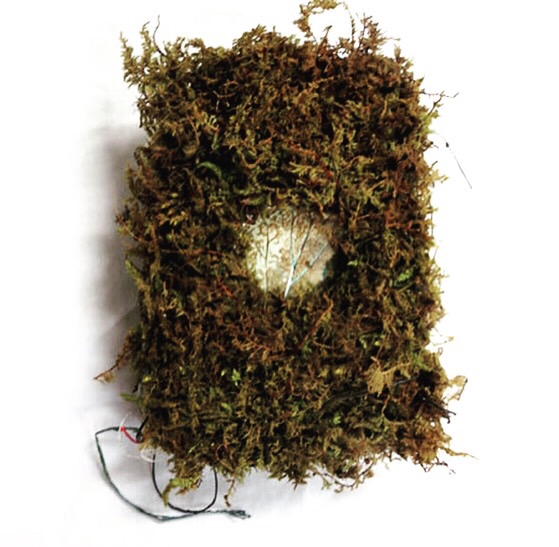 When I was working on this book, my hands stitching pieces of found materials onto the cloth pages, it became a form of prayer, a way to channel sorrow. My father-in-law was very ill, and being far, all I could do was think of him and his grieving wife, children, and grandchildren. I find at these times I need to keep my hands busy, and stitching always seems to be the best way to find solace. An act of mending, holding together.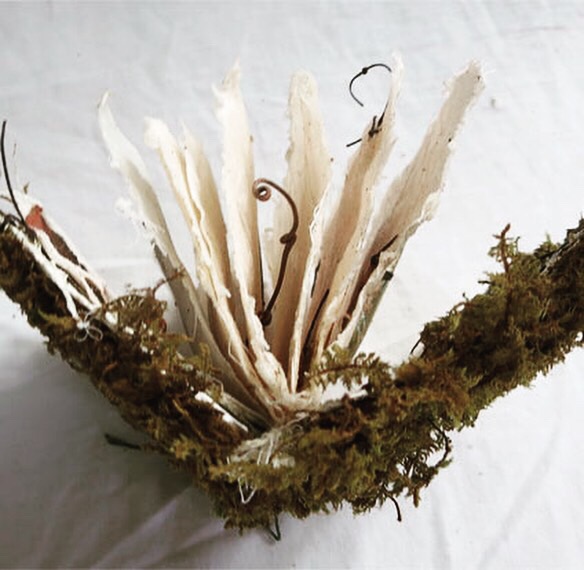 And it also helps to keep my hands in the earth. Working with moss is such a sensory act- the feel of it in my hands, the earth musty smell, and the earthy greens. I have always found comfort in nature, feeling it in my hands, on my feet. I recently heard that there's some sort of chemical in dirt that can elevate our mood…makes sense. We are of the earth, no matter how much we try to distant ourselves from that fact. And to earth, we return.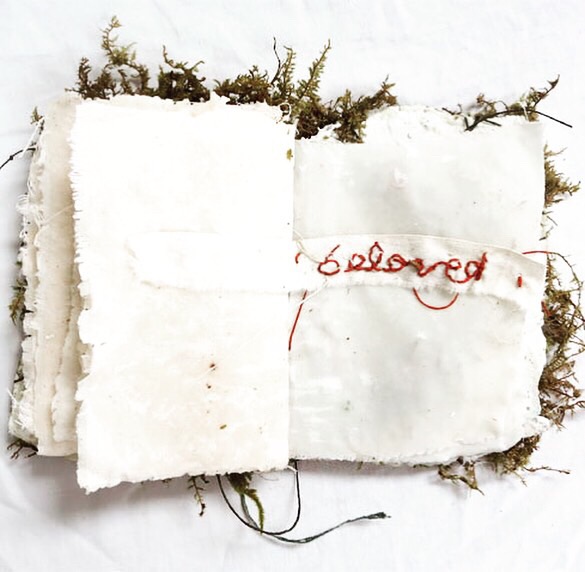 When I stitched the word "Beloved", I remember my heart was hurting and my vision was blurring. Loss is part of being human. And being beloved upon the earth while we are here is all we can ask.
My favorite poem by Raymond Carver; I carry it with me with every step I take since I first read it over a decade ago:
Late Fragment
And did you get what
you wanted, from this life, even so?
I did.
And what did you want?
To call myself beloved, to feel myself
beloved on this earth.
-Raymond Carver