Between Here and There: artist interview with Kari Hall
After visiting the Between Here and There show at artstream last month and seeing Kari's work in the show, I have to say that her work just needs to be seen in person to get the full impact. Imagine yourself standing in front of her work and just losing yourself in layers and nuances of her surfaces. Beautiful. But, I already knew this. I met Kari and first saw her work when we were in a FUSEDChicago show together in Chicago and I immediately was drawn to her work.
You can view her body of work in Between and Here at the artstream website and her larger body of work at her website.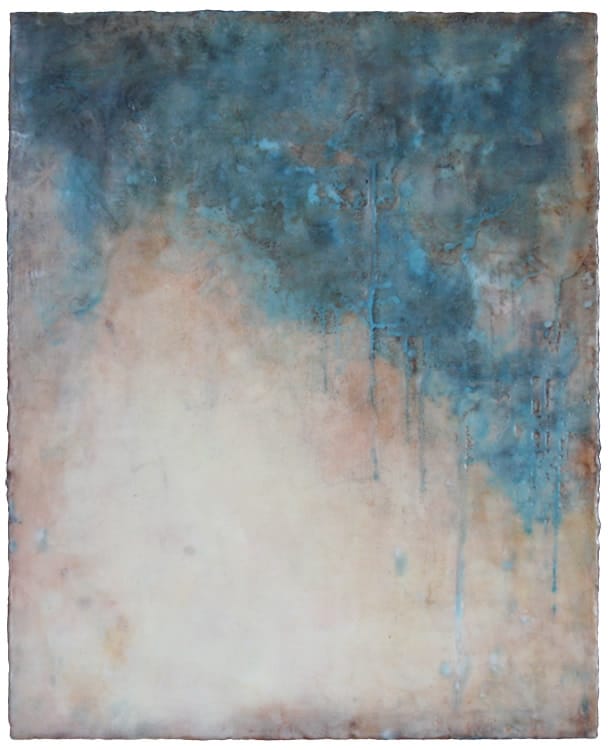 Kari Hall, The Waves Upon Us,encaustic, 20×16 inches
1. Can you talk a bit about the body of work currently on exhibit at artstream? What was your inspiration?
My works are memories of landscape that tell a story about my personal connection to Italy. I am inspired by my recollection of particular places and the history of my Italian ancestors. My experiences traveling to Italy have proven there is a connecting thread that ties my fascination to my background. I am continuously recalling the textures and colorful coastal towns in Cinque Terre, the calming Mediterranean Sea, the rolling vineyards in Tuscany, and ancient stucco walls in Rome. Using my imagination I translate these memories into abstract, multilayered pieces.
All of the paintings I created for this exhibit incorporate image transfers from my own photography, historic documents from my ancestors, paper or other found materials. These elements are either layered near the surface or combined into the underpainting, creating an illusion of receding back into space. The encaustic medium allows this sense of depth and intrigue. I like that it holds mystery of what lies within and invites one to step up closer for a moment of discovery and familiar connection.
2. Even though people often say "Let the art speak for itself" I love to hear the story or inspiration behind the artwork. Can you share a story/thoughts behind one of your pieces?
There is always a story behind my work. Every painting has significant meaning to me. On the Sanctuary Trail #1-9 is about my exploration and discovery on the hiking trails in Cinque Terre, Italy. One of my favorite hiking trails is on the high trail from Manarola up to Volastra, a less-traveled intimate path where you see farmers tending their olive groves and orange trees on hillside terraces. This high trail connects each town to its sanctuary (church). Each panel in this series is a memory of the landscape and elements of nature that spark my imagination. I have vivid memories of the deep blue colors of the sea, the shape of the lush vineyards, the bright purple wildflowers, and the texture of the ancient paths. Cinque Terre is like heaven on earth. When I am lucky enough to visit I am always captivated by it's timeless beauty.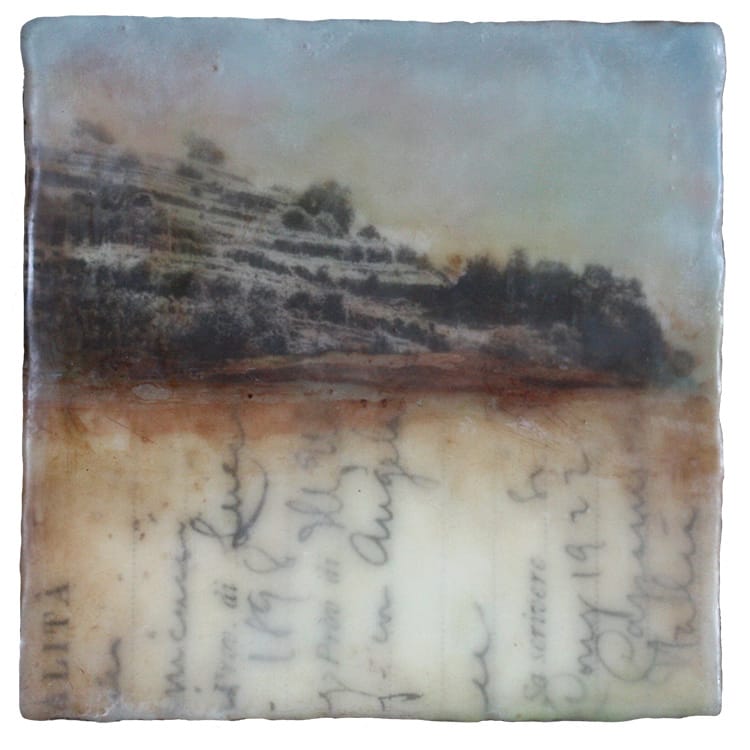 Kari Hall, On the Sanctuary Trail #2, 6×6 inches
3. You recently left your career as a graphic designer to pursue your art in a more full time capacity, what has been the biggest challenge during this transition? Any advice for how you handled the challenge?

The biggest challenge so far is being my own boss. All of the responsibility is on my shoulders, and it requires a lot of self-motivation, dedication, and hard work. But I know the hard work will pay off, and I have motivation because I am passionate about what I do. I'm extremely grateful to be able to do what I love. Another challenge I've faced is learning how to find balance between working out of my house and avoiding distraction. I find that sticking to a routine helps; getting up early, not watching TV or running errands during the day. An important part of staying productive in the studio is taking care of myself by maintaining a healthy and active lifestyle. I get outside everyday (even in the harsh Chicago winter!) to walk my dog and go to the gym. Taking short breaks gives me a fresh perspective when I get stuck on a painting. I feel as though I'm just getting my feet wet in the first few months of being a full-time artist, but I am working hard to achieve my goals and I plan to see them through. I'm working harder than I've ever worked before and I love every second of it.
4. I feel that your work has a duality- the abstract compositions and then the collaged photo encaustic works. Do you feel that there is a distinct separation between the two or is there an overlap?
There is an overlap. When my intent is to feature a specific image, it can be the primary focus of the composition. I am continuing to work more with my abstract compositions, but I may choose to incorporate mixed media elements that are buried under many layers of wax. I am interested in pursuing both directions, at least a combination of the two, and I don't feel limited to one over the other. The benefit of working in encaustic is that it allows me to explore multiple ways of creating an abstract painting.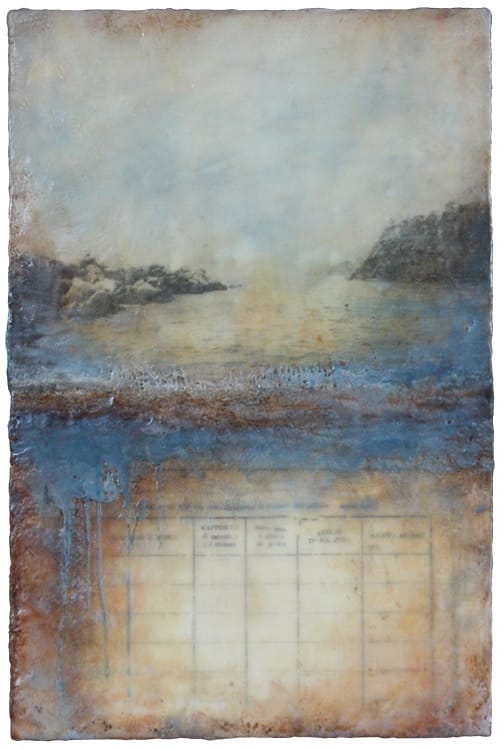 Kari Hall, Testament to the Sea, 18×12 inches
5. I've been fortunate to see your work in person when I was in Chicago and your work has a definite presence. I remember coming up really close to the surface and just wanting to peer into all the layers and also my fingers were itching to touch the surface. Are you paintings as heavily layered as it appears to be? 
Yes, they are as heavily layered as they appear to be. A piece could have anywhere from 20-50 layers of wax. Encaustic allows me to add depth and texture, layer after layer, and choose what to push into the background and pull to the foreground. Sometimes I want a color or mark to be distant or just a faint echo. I aim to reveal the light within each painting, which is amplified by the luminosity of the beeswax. It takes several layers to achieve the result I'm looking for.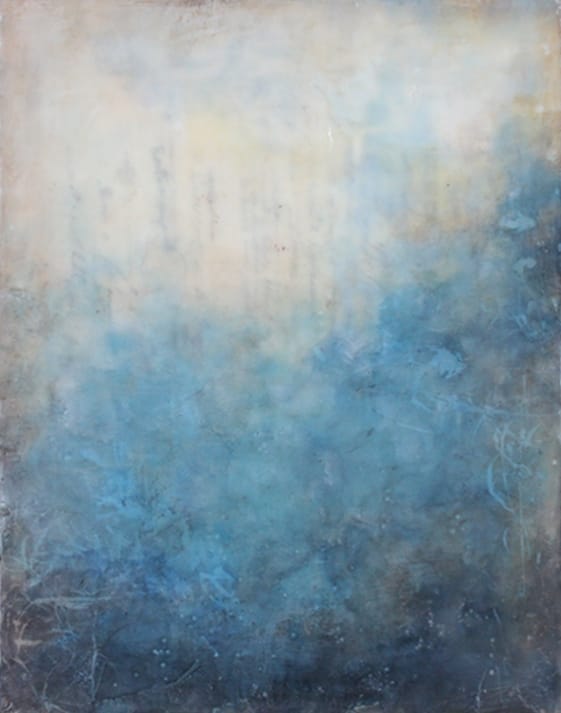 Kari Hall, Underwater, 14×11 inches
6. Do you have any art books that you recommend?
Art, Inc.: The Essential Guide for Building Your Career as an Artist
: A great resource with practical and useful information for building a career as an artist. When I transitioned away from the corporate world I found this very helpful information to start my own business.
The Artist's Way
: It's been around for a while but I recommend it to every artist. I continuously go back and reread this book. It has helped me rediscover my creativity and artistic confidence. If you are open, it can be life changing.
*******************************************************************************************************************************
I hope you enjoyed the interview as much as I did. If you are in the area, be sure to stop in to view the exhibit in person. It will be up for the rest of May. Hurry, before it's too late! I think about 14 paintings have already been sent to new homes.
Between Here and There
artstream
April 1- May 30, 2015
Artist Reception April 24th and May 29th
10 Second Street, Dover NH 03820
603.516.8500, M-F 12-6 Sat 10-2
Works are also available to purchase online. Feel free to get in touch if you have any questions.