The Brighter Side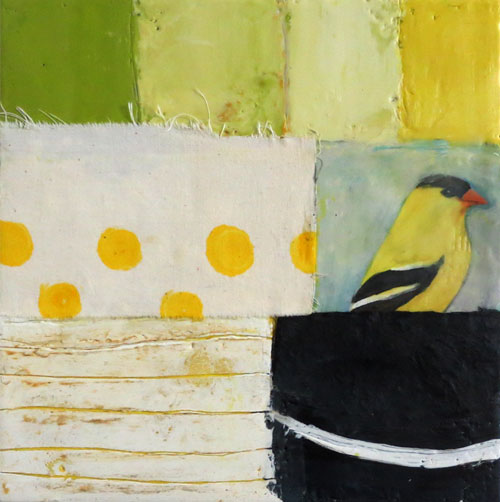 I have to admit that when I created this mixed media painting the other week I was surprised that I made such a bright and cheery painting! Who knew?
I created this painting in preparation of an upcoming show called Plumage at Lark and Key Gallery I pulled out some of my gouache bird paintings on paper that I did during my 100 days of birds series done back in 2017. And I picked this American Goldfinch. I pulled out a bird sketchbook/journal that I think I started the summer of 2016 where I did an entry on the American Goldfinch. I wanted to look back at what I did for possible inspiration.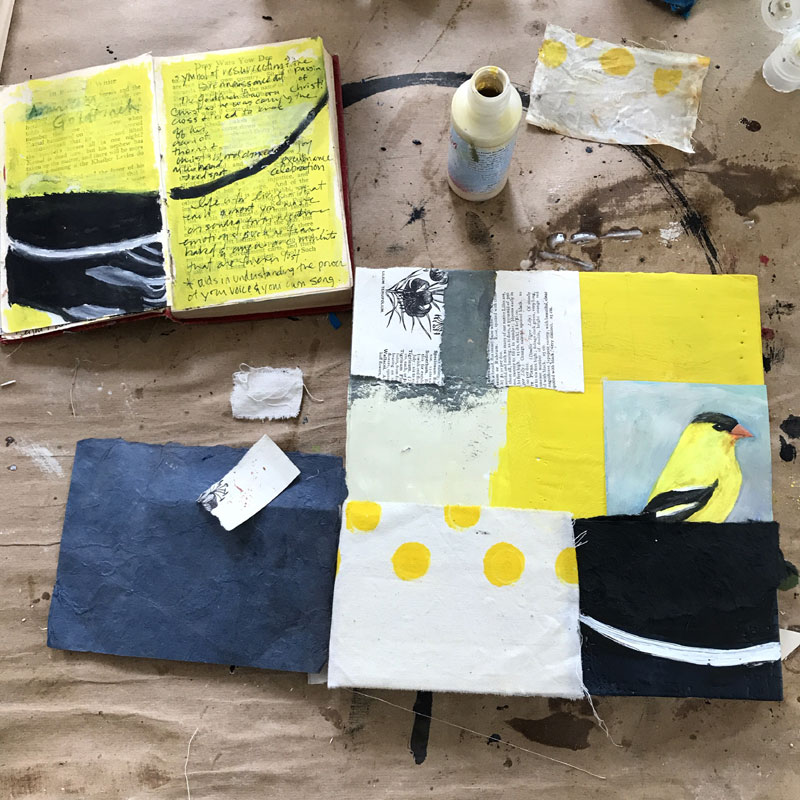 It's a funny journey that goes into the creation of a painting. I don't really know what people think in regards to what goes into making a painting, the time, the effort, etc. It may seem that it only takes a few hours….but for this mixed media piece, while the studio time may have taken several hours, the actual process of creating it took several years. I love that. We live and grow and our art grows along with us even if we're not fully aware of how and in what ways.
The other week I was in the midst of a big life decision and while I felt good about the direction, there are still nervous stomach qualms and self doubt. As I stood there pondering, an American Goldfinch landed in a branch above my head and stayed for awhile- a bright yellow spot against the dark green of the foliage. I read it as the universe saying that I was on the right path.
American Goldfinch: represents infinite possibilities
It brings to the fore the need for timing and precision when making big decisions, as well as having vision for the future.
The meaning of the goldfinch signifies abundance and prosperity. It symbolizes the importance of positivity and optimism, and the value of happiness, joy, and simplicity in your life.
Goldfinch meaning symbolizes that life is for you to live. Therefore, each moment you waste on such negative emotions as fear, hatred, and anger is a waste of time. In fact, this bird is all about finding joy in the present moment.
sources: https://www.spirit-animals.com/goldfinch-symbolism/ and https://trustedpsychicmediums.com/spirit-animals/goldfinch-spirit-animal/
As I always say in regards to finding messages out in my daily surroundings- maybe, maybe not! But I choose to see messages. We are all connected.