30 in 30: day 9
Day 9 of the 30 paintings in 30 days challenge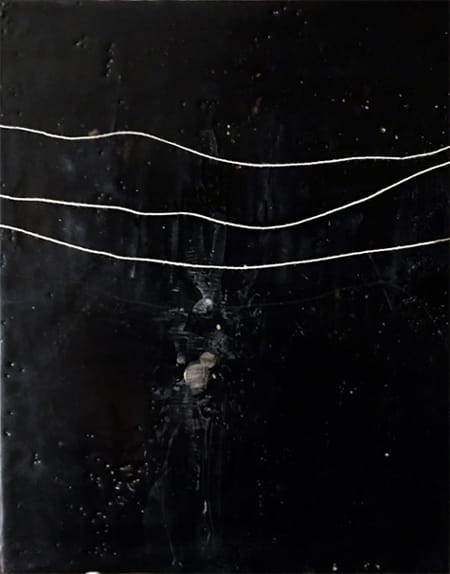 encaustic, thread on cradled wood
10×8 inches
As I am entering the second week of this challenge I am thinking that the idea of creating a painting in one day is a bit of a misconception. Some of the panels I have started at the same time and then paint a bit here and there and then on the day of the challenge I'll bring one of them to completion. Some of them have been me taking an old painting and reworking it into a new painting. And then some of them, like this very simple one, may have only been painted in one day, but it actually took me about a month to paint.
I know, that sounds ridiculous I am sure, but hear me out.
I am in an ongoing collaboration with the artists that I met at the Forager Retreat back in May in Washington. We started it in July, so we are in the third round right now. Last month I received the most beautiful woven piece started by Geary Jones. He had sent it to Judy, who added two rows of black cubed beads to the weaving. Gorgeous! For over a month this little gem was sitting in my studio staring at me. And I would hold it in my hands and stare back at it. I was completely at a loss of what I could do with it. If I attempted to weave something in, I would surely ruin it because I don't know how to weave.
After a month of this staring contest and much thinking and pondering, I took the plunge because, well simply because my month was up. And the above painting, which is my offering for today's challenge came to be. It is really difficult to photograph black encaustic paint, and I took the photo on my phone, but here it is. I embedded the thread in the wax. And I attached Geary and Judy's piece to the bottom.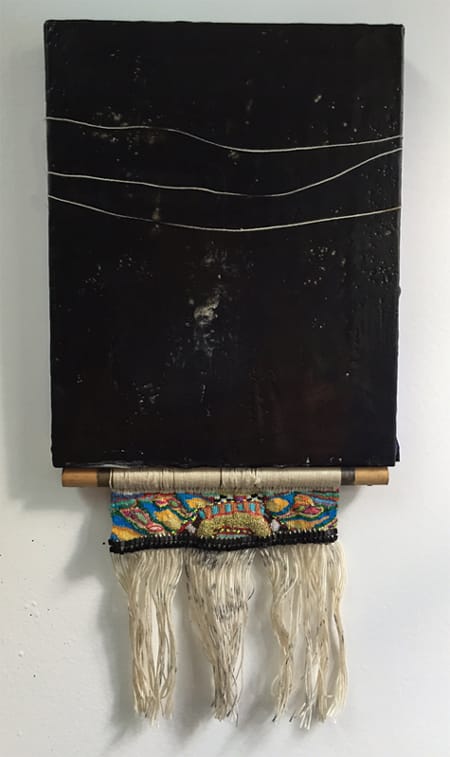 Round 3, still a work in progress
I will be shipping this off to someone else shortly. It's good to get out of one's comfort zone.