By the Light of the Crescent Moon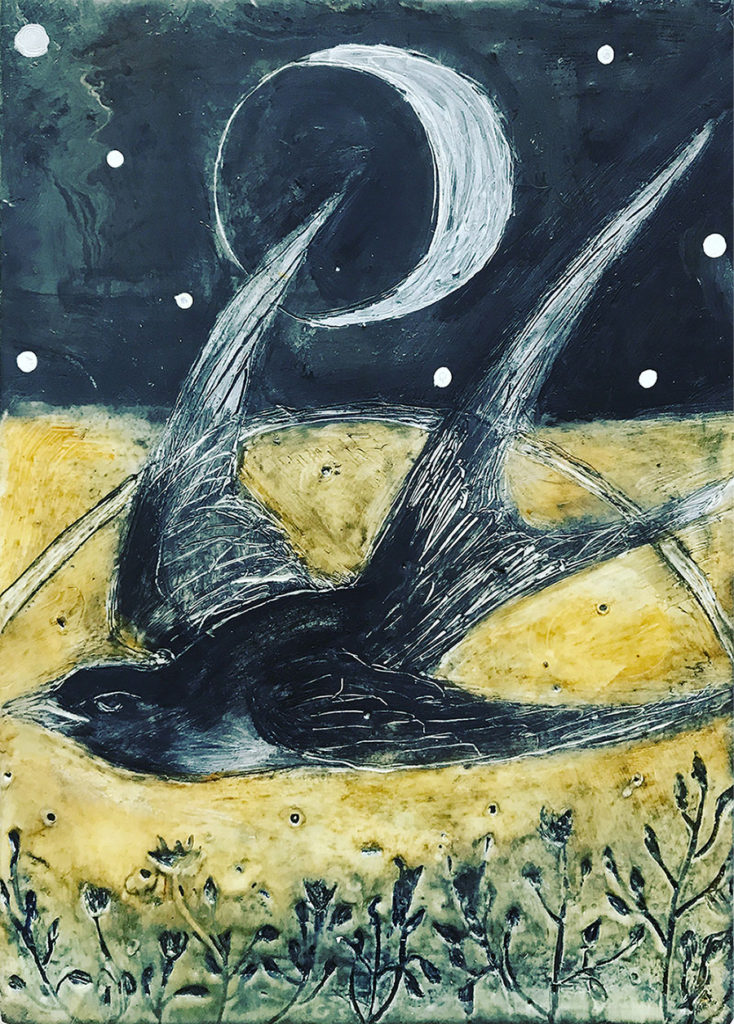 "I sense the world might be more dreamlike, metaphorical, and poetic than we currently believe–but just as irrational as sympathetic magic when looked at in a typically scientific way. I wouldn't be surprised if poetry–poetry in the broadest sense, in the sense of a world filled with metaphor, rhyme, and recurring patterns, shapes, and designs–is how the world works. The world isn't logical, it's a song." – David Byrne
The reality of the world lately has me really wanting to throw myself into a world of song and metaphor. Anyone else with me? The daily news is really hard to bear. But actually, even when current events weren't so dire, I have always felt that way. That's one of the reasons why I have always been drawn to folk tales when I was young and then magical realism when I was older. And now that I think about it, it's something that I draw upon in my artwork…
My mixed media pieces where I use my photos are definitely a way in which I attempt to bridge the real world to emotional/spiritual world. My recent pieces, especially for the nocturnal show, like the one above where I am not using my photos, but rather drawing and painting into the wax is again a bridge between worlds. Dreams connect our everyday life events with our emotional psyches and are our brain's way of trying to make sense of our world. And so this dreamwork process is like a continuation of similar thought, just a different vein.
Whenever I do have a vivid dream, I write it down. Then going through the whole process of depicting the dream visually is a whole other realm of delving into what could my brain possibly be trying to tell me. Or maybe it's not trying to tell me anything, but just entertaining my brain while my body sleeps and recuperates. Either way, it's an interesting thought to ponder. And there are certain dreams that I've been trying to get down visually for years. It's very elusive and I don't know why. But I keep trying!
This small piece is framed and is part of the Nocturnal show at Lark & Key this month. The show opens online at 12 noon eastern today, September 1st!