Fragments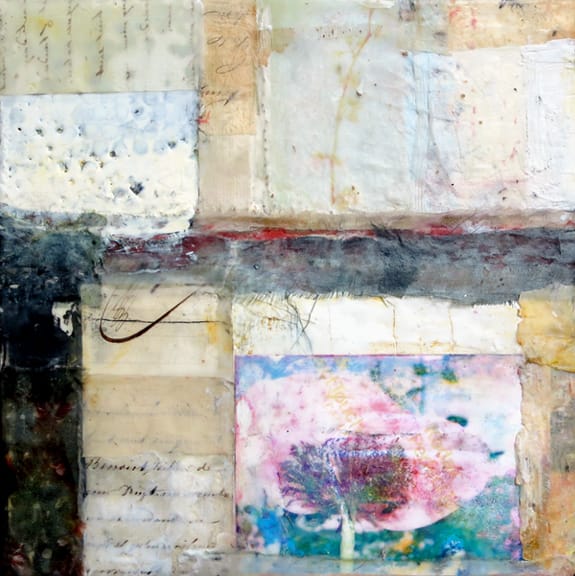 Fragments
encaustic mixed media
8×8 inches
available for purchase
I created "Fragments" sometime in 2013 for Lesley Riley's book Inspirational Quotes Illustrated: Art and Words to Motivate

Her book started shipping this past month. But back in 2013 she gave me this quote as inspiration:
"And so the hand of time will take the fragments of our lives and make out of life's remnants, as they fall, a thing of beauty after all." Douglas Malloch
At the time of creating this painting, I had just started painting again after a very long hiatus after I lost my studio to the big flood, living in a hotel room, then moving to Maryland, then waiting while we built my studio. I really was feeling like I was gathering the fragments and remnants of my life and trying to create a new life for myself and my family. The faded and weathered image of the pink poppy was one of my photos that I rescued from my flooded studio storage drawers. Those were poppies in my crazy cottage garden in Seattle. I loved them so much. I used torn papers from my new collection of paper that friends sent me to replenish my collage stash. There is also a bit of organza that was given to me by another artist friend.
One of the lessons I learned, or rather re-learned as I seem to have experienced plenty of tough lessons in my life, is that when life throws something destructive in your life…..you can actually rebuild, reconstruct and recreate with the love and support of community. We all have a choice with what we do with the events that happen and life is all about pulling these fragments and remnants together and creating something durable and hopefully a thing of beauty.
It's not always easy and it's often ugly and painful, but at least we have the opportunity to create from the remnants.
"What we choose changes us. Who we love tansforms us. How we create reshapes us. What we do remakes us." -Dr. Eugene S. Callender