of earth and sky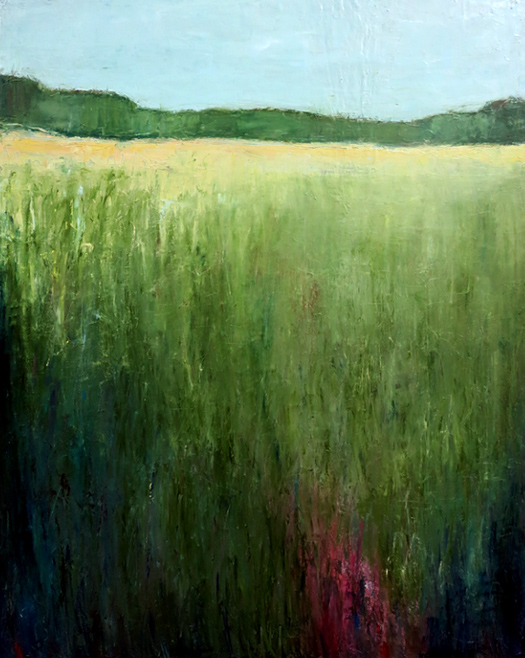 Green Meadow, oil on canvas, 16×20 inches, available at terrearts.com
Lately in the studio I have been painting earthy landscapes, losing myself in laying down the oil paint on the canvas. The past two weeks though I have not been in the studio due to spring break and I have been painting birds on paper with gouache. Of earth and sky.
I have been in a disillusioned funk lately. Politics, society, religion, social media….everything just seems made up of lies and alternative facts and curated, made up personas. I have a difficult time with it. Honesty is huge for me. When I have encountered disingenuous people or circumstances, I completely disengage. Which is often why I joke that I should go live in a cave because honestly being part of society does require us to put on masks constantly. But I am what I am and I've always been this way since I was young.
Where am I going with this? Oh yes, my art. I find myself focusing on these very concrete things- the earth and these birds. They are real. Concrete. They are what I love and what I am drawn to. I feel most at ease with myself and my place in the world when I am out in nature. Painting the landscape and the paintings of the birds, especially, are keeping me sane these days where everything just seems so staged.
This painting, Green Meadow, above is loosely inspired by a day I spent in a weaving workshop where we sat near a large meadow. Meadows are so full of life and living and shelter and sustenance for so many critters. My landscape paintings are based on my wanderings and I focus on color and shape and trying to express the feeling I had when I stood there. That sense of openness, often. But also a sense of belonging, of rootedness to that spot.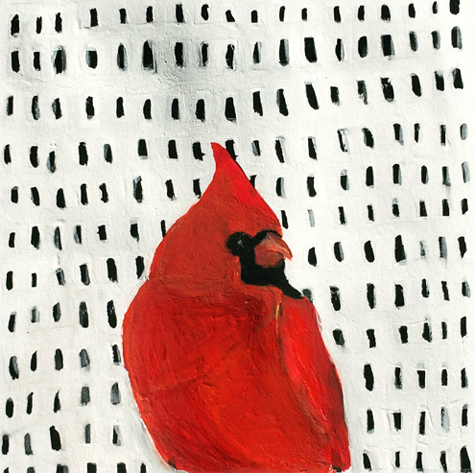 Day11.Cardinal, gouache on paper, 5 x 5 inches
Right before spring break I jumped on the 100 Day Project bandwagon on Instagram where you challenge yourself to doing something for 100 days. I chose to do bird paintings in gouache on paper. So far I have completed 14 birds! I often paint these at night after the kids go to bed and I have been finding it a really great way to end the day. I love painting these birds. I find it relaxing, meditative. Just looking at shape and color. But I am also challenging myself with the backgrounds- trying to create a dynamic/interesting background that complements the bird.
Once I get my act together I will offering these daily paintings for sale. They will be $125 each, which will include a white mat that I will cut. Hopefully I can find my mat cutter in the meantime. The price also includes the shipping and handling. Stay tuned for when I post or also contact me if you are following on Instagram and want to reserve one.
"I cannot tell you what I am, much like a ray of summer's sun. What I am, I am, and say not. Being is the great explainer." – Thoreau