week 5: Banoffee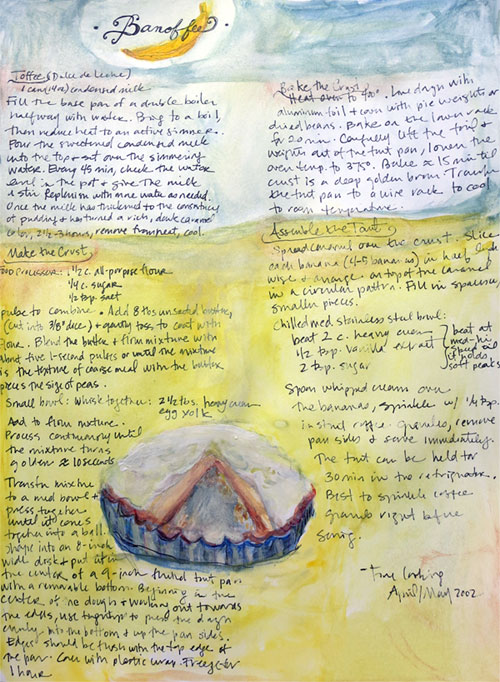 For week 5, I created an amazing dessert that made my son's eyes widen in epicurian wonder. My daughter only tried the whipped cream and gave it the sideways thumb, neither up nor down. And my husband doesn't eat desserts generally so he didn't try it. Which we fine with because it meant more for us!
I've had this recipe since 2002. For the past 15 years I have paged through my binders and always thought- wow, that looks so good, but way too complicated, and then I'd turn to the next page. I'm so glad I finally made this. Also I learned how to make Dulce de Leche the safer way. I have always done it with the stick a whole closed can in a pot of water and boil it for a few hours, let cool for a few hours and then do a Hail Mary and pray that the can wouldn't explode and take my eye out. Dulce de Leche was always worth the risk though in my opinion. But this recipe has a much, much safer method to create the coveted, rich caramel.
I remember the first time I had Dulce de Leche. My best friend that I have known since we were 4 years old is Peruvian. For our 3rd grade Countries of the World project where we picked a country and did a presentation that included food, she presented Peru. Her mom made a big bowl of Dulce de Leche and passed out little tastes. I kept coming back. Perhaps this is why I could always be found going to her house through our childhood, hoping that her mom would have made it for dessert. Sometimes she actually would and serve it atop mashed up bananas. Which really was a treat because they were very healthy in that family and hardly ever had sugary treats, not even soda. They ate wheat bread when most people were still eating that thing that passed for bread back then, yes, Wonder Bread. My friend would always want to come to my house to load up on all the junk food she couldn't get at her house. This pie is so good, but I also think I love it because it reminds me of that childhood treat and a home that was like a second home to me growing up.
"Baking can be done with a few simple ingredients, so it's about simplicity and nostalgia – people are reminded of their childhood." Paul Hollywood
To read the original Fine Cooking recipe, go here.