Remembering to Remember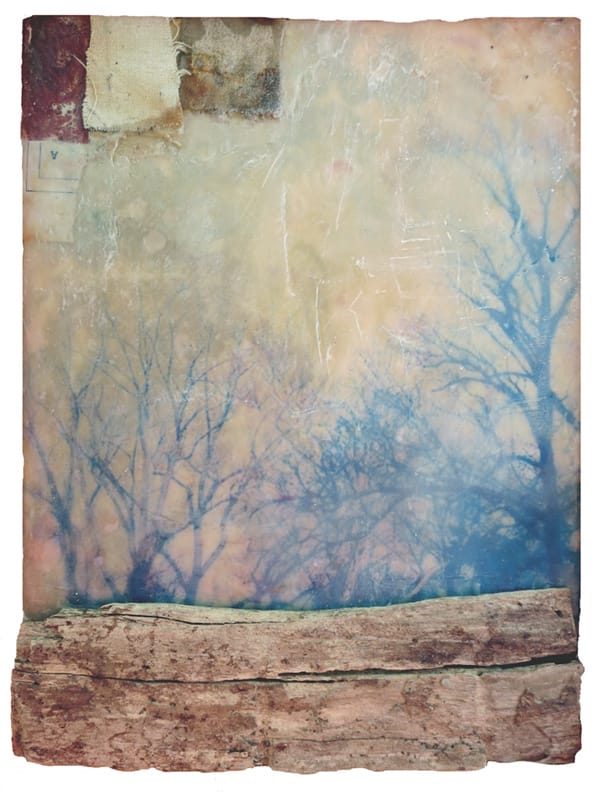 Remembering to Remember
encaustic mixed media
8×6 inches,
currently at Lark & Key Gallery
sold
I have been reading Robin Wall Kimmerer's book, Braiding Sweetgrass: Indigenous Wisdom, Scientific Knowledge and the Teachings of Plants
and she has such a beautiful way of writing and weaving in science with native traditions. There was one part in the beginning where she explains that ceremonies are the way we "remember to remember". I circled those words in my book in pencil, nodding my head.
When I was titling this piece, I thought back to those words and thinking about what I have been learning about the trees in my area and all the wonderful cycle of life that are involved all around us, under our feet and within us. It is so easy to forget the miracle of being alive on this rock and all the life that it took and takes to keep us all living. When I am in the woods, it is my way of remembering to remember. The trees are there to remind us. If we choose to listen.
Yesterday I was at a talk where Ned Tillman was speaking about ecosystems and that there are over 500 species of insects and birds that are dependent on a single oak tree and then he showed us this beautiful World Wildlife Fun poster with this great quote:
"There is a lot of life in a tree. Imagine in a forest" -WWF poster
I'm really happy to share that this piece, along with three others are currently in the Waxing Poetic exhibit at Lark & Key Gallery in Charlotte, NC, along with artists Janet Eskridge, Judy Klich, Mary Alayne Thomas. Hope you can stop in!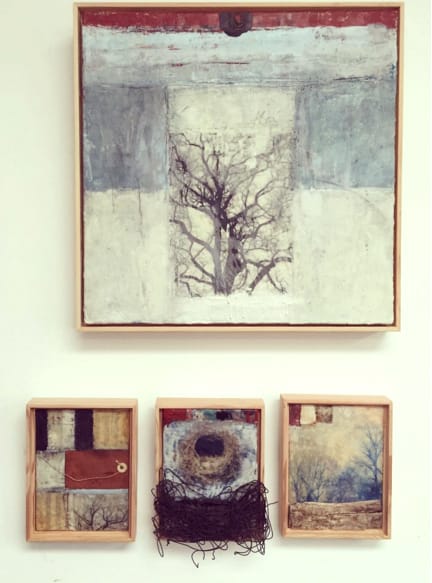 Waxing Poetic
Lark & Key Gallery
128 E. Park Ave, Ste B, Charlotte, NC 28203
Exhibition Dates: April st1, 2016- May 28th, 2016
Q&A: Lark and Key interviewed me, check it out along with photos of what I lovingly call my "creative slop", or rather my studio table (often floor as well) when I am in the midst of creating.
My work is available for purchase and shipment if you are not in the Charlotte, NC area. This link will take you to the work available at Lark & Key.
This photo to the left was taken in my studio when I was getting ready for the show and I had just finished framing them up. It was nice to see them hanging as a group before I sent them on their way. I am hoping to making it down to North Carolina before the show is over to see it all in person. And do some remembering in the mountains of North Carolina while we're down there.